Drakenstein Stud has prepared four colts on their farm track for the CTS Ready To Run Sale on Friday 23 November and Stud Manager Ross Fuller believes they will be well received.
Drakenstein is offering two home-breds and two as agent, with the Ridgemont Highlands born Bag Of Tricks (Lot 70), first up.
He's a grey Son of Dynasty and Even Money, a daughter of formidable broodmare sire Rich Man's Gold who has already produced two winners from three runners. "He's a big, strong colt with a nice action," said Fuller.
Lot 90 is Twilight Zone, by What A Winter, the first offspring produced by Magical Dynasty, a Dynasty mare who won over 2400m. "He's a nicely built colt that moves well," Fuller assessed.
Next is Land Of The Brave (Lot 110), by What A Winter, a colt Fuller said was "an image of his father". He was born from Niyabah, by Nashwan, from the potent international family of Legend Of Condor, Lady Aria and Union Rose. He is noted to have a good action.
Lot 112 is Tall Cotton, a beautiful, athletic son of Trippi and the stakes winner Pacific Dynasty (Dynasty), whose first foal Frank Lloyd Wright (Captain Al), was a top-priced yearling. "He's very nice with a lovely action," said Fuller.
Watch out for our full sales preview and buyer's guide!
‹ Previous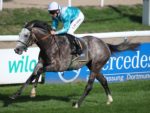 5 Quality Wild Cards For Autumn Sale