Dave Byrnes, a courageous and talented jockey who successfully plied his trade in the USA, died on Tuesday after a long illness.
In latter years he was a workrider in the Dennis Drier yard and had currently acted as an assistant trainer in the Paul Lafferty yard.
Byrnes was the son of one of the country's best ever lightweight jockeys, Joe Byrnes, and in 1974 the pair established the unique feat of riding in the Durban July together.
Dave was a  fifteen-year-old apprentice to David Payne at the time and rode the 33/1 outsider Sea Patrol to second place. The race was famous for the dislodging of Tom Rattley off the second favourite Jamaican Music shortly after the start and for the upstaging of the favourite Elevation by 20/1 stable companion Riboville, whose 4,5 length victory is the widest in July history.
Dave recalled in an interview a few years ago, "It was the first time we had run Sea Patrol in blinkers. He virtually ran away with me and we led all the way until overtaken by Riboville. With more experience I think I could have won the race. The loose horse, Jamaican Music, brushed us and the interference could have cost us. With more experience I would have just let him go in the straight and not waited."
In 1978 Byrnes rode the Herman Brown-trained World News to win the Grade I SA Guineas at Greyville from draw 14 of 15. .
"Dave Byrnes was a very good jockey and it was a pity for our racing that he left for America the next year," recalled Brown a few years ago.
Byrnes also won the Lady's Bracelet at Scottsville on a Syd Laird-trained horse called Refreshing and the Hibiscus Fillies Nursery at Greyville on Little Mo.
He left for America in 1979 and made an almost immediate impact when forming a lethal partnership with an English trainer called Roy Waugh.
Waugh trained for Summa Stables which was a partnership formed by oil billionaire and legendary owner-breeder Nelson Bunker Hunt and coin collector millionaire Bruce McNall. Barry Gordy, founder of the Motown record label, was also initially a member of the partnership.
Bunker Hunt, who won such races as the Epsom Derby and the Arc, initially sent Waugh about 14 horses that were all rejects of the sire Vaguely Noble (Arc winner) and his sons, Empery and Mississipian.
Waugh was based in San Fransisco with Byrnes as his stable jockey and in 1980 the pair raided the East Coast.
They were unknowns but had so much success and such a phenomenal strike-rate that they acquired the nicknames "London Express" (Byrnes) and "California Flash" (Waugh). Byrnes nickname related to his driving through on the inside rail, an unusual tactic in the USA.
A couple of years later Bunker Hunt's empire collapsed when he tried to corner the world silver market and Waugh lost his job.
Byrnes continued to ride with success in the East Coast until a bad fall in 1987 put him out for some time.
The fall coincided with him becoming "tired" and he lost the drive and ambition he had once had.
He returned to South Africa in about 1994 and among the interesting things he did besides race riding was playing a role as stuntman in a horseracing movie called "The Derby." In one scene, taken at Clairwood, he was required to veer a horse across the track and dive over the rail, a highly dangerous stunt that fitted in with his reputation as a fearless horseman.
Byrnes retired from riding in 2003 and a subsequent attempt at a comeback in 2009 did not last too long.
He and Waugh's paths crossed again as Waugh is also currently an assistant trainer to Lafferty.
Byrnes' time at the South African Jockeys Academy in the 1970s had coincided with the like of Michael Roberts, Basil Marcus, Felix Coetzee, Patrick Wynne, Steven Jupp, Dennis Bosch and the late Gary Verne, a vintage group who all left their mark.
He leaves his wife Barbara and son Daniel and will be missed by many –  not only for his horsemanship – but his friendly demeanour and approachable nature.
‹ Previous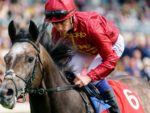 Gosden Lion's Cartier Roar!