Gauteng raiders Van Halen, Chimichuri Run and Amazing Strike are three of the first thirty entries for the R400 000 Gr2 Cape Merchants to be run at Kenilworth over 1200m on 24 November.
Last year's runner-up Dutch Philip, who got within 0,75 lengths of winner Silicone Valley is also in the entry list for the early summer sprint handicap.
Final supplementary entries are due by 11h00 on Wednesday 14 November.
Declarations are due by 11h00 on Thursday 15 November.
The race will be run on the same day as the Concord Cup (formerly the Selangor Cup) and the CTS Ready To Run Stakes – the latter two being run on the winter course.
The weights for the Gr2 Cape Merchants:
9
Bold Respect
(4G)
62
118
A
Brett Crawford
15
Sergeant Hardy

Accepted

(5G)
61.5
117
A
Justin Snaith
8
Attenborough
(5G)
60
114
BA
Joey Ramsden
11
Search Party
(6G)
60
114
A
Brett Crawford
14
Magical Wonderland
(4F)
58.5
111
A
Candice Bass-Robinson
10
Dutch Philip
(4G)
58
110
A
Candice Bass-Robinson
29
Brutal Force
(7G)
57
108
BA
Joey Ramsden
17
Copper Force
(5G)
57
108
A
Justin Snaith
5
Tevez
(9G)
57
108
A
Candice Bass-Robinson
21
Amazing Strike
(7G)
56.5
107
BA
Alec Laird
23
Chimichuri Run
(3C)
56
116
AT
Sean Tarry
25
Speedpoint
(4C)
56
106
BA
Joey Ramsden
4
Elusive Heart
(4F)
55.5
105
A
Glen Kotzen
12
Kasimir

Accepted

(4G)
55.5
105
A
Justin Snaith
22
Sand And Sea
(4G)
55.5
105
A
Dennis Drier
27
Bishop's Bounty

Accepted

(5G)
55
104
A
Justin Snaith
24
Star Chestnut

Accepted

(6G)
54.5
103
A
Justin Snaith
7
Too Phat To Fly
(4F)
54.5
103
A
Glen Kotzen
3
Lord Balmoral (AUS)
(5G)
53.5
101
A
Vaughan Marshall
28
Sir Frenchie (AUS)

Accepted

(4G)
53
100
A
Justin Snaith
2
Our Mate Art (AUS)
(5G)
52.5
99
A
Candice Bass-Robinson
19
Van Halen
(3G)
52
108
A
Tobie Spies
16
Hemmingway
(4G)
52
98
A
Andre Nel
20
A New Dawn (AUS)
(5H)
50.5
95
A
Joey Ramsden
6
New Caledonia
(6G)
50.5
95
A
Geoff Woodruff
26
Valbonne
(4C)
50.5
95
A
Brett Crawford
30
Bernie
(4G)
49
92
BA
Candice Bass-Robinson
13
Power Grid
(5G)
49
92
A
Andries Steyn
18
Nasty Harry
(5G)
48
90
A
Brett Crawford
1
Pleasedtomeetyou
(3C)
46
96
A
Andre Nel
(30)
‹ Previous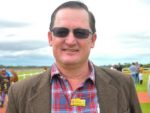 Eight Races On Fairview Poly Today