The statisticians and Grant van Niekerk's apparent Happy Valley mental block suggested that the money that came for the Ricky Yiu gelding Little Bird in the Hong Kong fifth race on Wednesday evening was more optimism than calculated investment.
A memorable Sunday in early September in front of a Sha Tin crowd of over 74 000 – the second highest attendance in 20 years – saw a dream start to a maiden international campaign for our home-bred jockey Grant van Niekerk.

In the first race of the fresh new season, the likeable newsmaking young rider and new trainer Jimmy Ting Koon-ho combined in a fairytale start with the unfancied veteran galloper, Triumphant Jewel.
It was Grant's first ride – it was Jimmy's first runner. Seven races later Grant flashed up on the Tony Millard-trained World Record to win the last race and close the inaugural meeting in style
But dream starts set the bar – they create expectancy too, and the superbly talented 27 year old Capetonian had placed himself under the happy pressure of a flying start.
His first seven winners all came on the more forgiving and kinder playing field of Sha Tin as he appeared to battle to master the complexities of the trickier and quite unique city venue of Happy Valley.

And when he cantered to the start for the fifth race on Wednesday, his mental sands of time were becoming something of a dune of desperation. The statistics – and they maintain them with world class precision in Hong Kong – showed that he was winless at Happy Valley after two months, 44 rides and nine placings.
With Little Bird his usual hyped up self in the preliminaries, Grant made no mistakes as the Ricky Yiu Poon-fai-trained galloper flew out of the pens and questioned his official mark of 65 to go all the way in the 1200m American Club Challenge Cup. Ice broken – and it could go down in the Van Niekerk biography one day as more of a magic moment than his now historic 2018 Met day Gr1 double on Snowdance and Oh Susanna – such is the pressure that goes with the no quarter given territory that is Hong Kong.
"I told the trainer it feels like my first winner," Van Niekerk said afterwards.
"I'm just very glad I got my first winner here – it's been a tough month for me but I'm glad it is done now. It was frustrating – when you don't have winners it is frustrating. Obviously you find that when you do struggle, you get fewer rides and trainers don't really look your way that much. But once you get a winner in Hong Kong, things just build up again. I'm really so grateful for the support I've been getting. It's obviously well known that the newcomer doesn't always arrive and do well. I'm hoping from here on out that I can build on this."
Click on the image to read more

Grant added that he had never ridden on a track like Happy Valley – there are no similar platforms here in SA.
"Obviously I haven't been here for long and it's a tricky track, so everything takes time and for me it felt like I just had to get the rhythm of the track," he said.
While his Hong Kong win strike-rate is a relatively modest 7,84% from 102 rides, Grant has won HK$ 11 680 500 in stakes. There have been frustrating moments too – he has ridden 9 seconds and 12 thirds.
Don't write him off just yet!
‹ Previous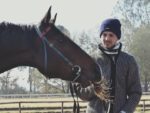 Terzi's Golden Lion Can Pounce Today