Silvestre de Sousa is back in Hong Kong and the British champion made his way to the Sha Tin sand yard on Thursday to get the leg-up on Eagle Way (124lb), his mount in this Sunday's big feature, the Group 3 Sa Sa Ladies' Purse Handicap (1800m).
"It feels like I've never been away!" the Brazilian beamed.
De Sousa is in town on a four-month contract, two seasons after he notched 16 wins during the second of his two previous winter stints.
The rider did make a short stop in Hong Kong last December for the LONGINES International Jockeys Championship, and, having recently carried off his third UK championship with 148 wins, he is again booked for the star-studded Happy Valley challenge on 5 December.
"I'm looking forward to that," he said. "It always feels like it's a big competition, you get that sense here because you're riding against the best jockeys – they're picked for the day. It's all about the rides you get because I'm sure every jockey competing that night can ride the winners.
"The prize money helps and it makes it exciting, but when you're riding that night you're just thinking about riding the winner."
But De Sousa's immediate focus is Sunday's 10-race fixture at Sha Tin, at which he has nine rides.
"It's exciting, there are a lot of good jockeys here so I hope to get a few rides each meeting and get on the right ones. I'm looking forward to Sunday," he said.
"I've got a lot of rides already booked, so the pressure will be on to ride a winner. The fact that I've been here before makes it a bit easier, people still remember me."
Eagle Way's trainer John Moore got in early with his booking for the weekend feature, but he has found that the rider is already hot property.
"I've been on the phone so much that I have a sore ear but he's very hard to get, he's fully booked. This horse was the only one I could get him for! He's booked for the next few weeks," the handler said.
"I had him booked a month ago to ride Werther initially but the owner preferred that we miss this race and give the horse a little more time into the Jockey Club Cup before going into the Hong Kong Cup. When that was decided, we put him on Eagle Way."
‹ Previous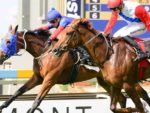 Pi Pa's A Touch Too Good