Early bird punters nearly missed the first worm this morning when Tellytrack only started the television broadcast of the Melbourne Cup after 400 meters of the race had already been run.

The race was run at 06:00 South African time on Tuesday morning.
According to Tellytrack's Wesley Lloyd, the problem occurred due to the fact that Tellytrack was receiving the betting television feed from media partner Sky and not the world broadcast feed coming live out of Flemington.
Lloyd explained that the betting feed is used in the build-up to a race with studio presenters discussing the horses and the betting odds. The live broadcast feed is transmitted from the racecourse, showing the race being run and the live commentary.
"When we realised we were receiving the betting feed, we immediately contacted Sky. They then proceeded to switch over to give us the world broadcast feed, but unfortunately by then the race had already started," said Lloyd.
"We apologise for the oversight and assure our viewers that we have put measures in place to prevent this from happening again."
Punters in South Africa were treated to some staggering figures as far as the betting on the Melbourne Cup is concerned.
Due to the commingled pools, the fact that the Melbourne Cup is known as "the race that stops a nation", and the exchange rate of R10.31 to the Australia dollar, the win pool on the tote ended up a whopping R123 million.
Press Release by Phumelela Gaming & Leisure on 6 November 2018
‹ Previous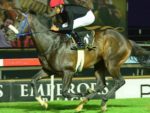 Buffalo Eyes Summer Cup