While the top end generally tends to look after itself, it was the welcome return of the vital middle market at the recent Johannesburg Ready To Run Sale that put some pep back in the step and a twinkle back in breeders eyes.
The popular sale has once again attracted an exceptional draft!of entries for its seventh renewal, including the off spring of South Africa's current Top 5 stallions SILVANO (3 lots), VAR (3 lots), TRIPPI (2), GIMMETHEGREENLIGHT (3) and 12 by Maine Chance Farms QUERARI.
The perennial shining light DYNASTY has just one lot on the sale – he comes up under the Drakenstein Stud flag.
The top breeders are offering two home-breds and two as agent, with the Ridgemont Highlands born Dynasty colt Bag Of Tricks (# 70), first up.
He's a grey Son of Dynasty and Even Money, a daughter of formidable broodmare sire Rich Man's Gold who has already produced two winners from three runners. "He's a big, strong colt with a nice action," said Drakenstein Manager Ross Fuller, who prepped the quartet for sale on the farm track.
Also well represented in the catalogue are the likes of rising star WHAT A WINTER (5), TWICE OVER (7) and a host of big winner producing stallions, including ORATORIO (7), PHILANTHROPIST (1) as well as Dynasty's multiple Gr1 winning son JACKSON, whose 4 lots will attract plenty of interest. Now the sire of nine first crop winners, Jackson's early notable performers include Gr1 filly Can You Feel It and last season's Gr3 Cape Of Good Hope Nursery third Mr Crumford. Can You Feel, placed in both the Gr1 Thekwini Stakes and Gr2 Golden Slipper last season and was a runaway winner recently.
Varsfontein Stud's young stallion MASTER OF MY FATE has just one filly and one colt on the sale.
The son of Jet Master, who celebrated his first stakes success last month in the Cape Classic, had three winners on two days last week.
Currently South Africa's Leading Second Crop Sire by stakes, Master Of My Fate's first crop includes the likes of Gr3 Cape Classic winner, and leading Gr2 Concorde Cup hope, Twist Of Fate.
Have you seen our free Buyers Guide? Click on the image below!

In all, 117 lots have been catalogued for a compact sale of real quality, and all two-year-olds sold will qualify for the R2,5-million 2019 Ready To Run Stakes.

The demarcated CTS Millions stamp on certain of the lots – see the catalogue – indicates that they qualify for the R5 million CTS 1200 and R5 million CTS 1600, run on Met day
History shows you don't have to spend big to win big!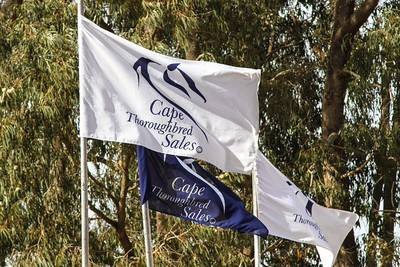 CAMELOT
Four time Gr1 winner and Investec Derby hero whose excellent first crop includes Gr1 winners Athena and Latrobe, as well as group winners Hunting Horn, Fighting Irish and Italian classic winner Wait Forever, local runners include the very promising Crown Towers, his second crop includes the Gr1 Criterium de Saint-Cloud winner Wonderment
Lot 9 – this classically bred colt's granddam is an own sister to unbeaten 2000 Guineas winner and successful sire Footstepsinthesand and half-sister to Gr1 winning 2yo Pedro The Great (sire of 2018 Gr1 winner Fatale Bere)
CAPTAIN OF ALL
Equus Champion and triple Gr1 winning son of one of the best sires ever bred in South Africa – Captain Al, this is his first crop
Lot 10 – this colt is a ½ to 3 winners including stakes winner Bursary
Lot 11 – this colt is a ¾ brother to 3 very smart winners notably Gr2 performer and CTS 1600 runner up Captain And Master and he is out of a four time winning daughter of multiple champion sire Jet Master
Lot 74 – out of a winning daughter of National Emblem, this colt's 3 time winning second dam is a half-sister to the dam of Australian Gr1 winner and sire Bon Hoffa
Lot 81 – this colt is out of a Fort Wood daughter of Gr2 winner Park Lane and is thus bred on a similar cross to Gr1 winners Captain America and William Longsword
Lot 108 – a half-sister to 3 winners, this filly is out of a winning ¾ sister to Majorca winner and Gr2 producer Trojan Belle, her winning dam is a ½ sister to five time stakes winner Helena
DUKE OF MARMALADE
Cartier Champion and five time Gr1 winner, he is sire of more than 60 stakes horses the world over, the champion's first SA crop has already produced the likes of Cape champion Temple Grafin and the promising Duke Of Spin and Santa Clara
Lot 28 – this colt is a half-brother to 5 winners including Gr3 winner Tippuana Moon
Lot 61 – inbred to outstanding sire Kingmambo, this filly is out of a winning half sister to Gr1 2yo Kilcoy Castle and the dam of recent stakes winner Too Phat To Fly (like the filly on sale sired by a Danzig line horse)
Lot 71 – this colt, a half-brother to impressive winner Ultra Magnus, is out of a stakes placed own sister to multiple Gr1 winner Copper Parade and 11 time stakes winner Copper Trader from the magnificent Bourtai family
Lot 91 – a half-brother to 3 winners, and closely inbred to Danzig, this colt is out of a winning own sister to Met winner La Fabulous, the family of graded stakes winning 2yos Hot Affair and Rip Curl
DYNASTY
Four time Equus Outstanding Stallions whose lengthy list of champions include Futura, Irish Flame, Legislate, Beach Beauty, Bela-Bela, Just Sensual, It's My Turn and Lady In Black
Lot 70 – a half or full brother to 2 winners, this colt is out of a four time stakes winning daughter of prominent broodmare sire Rich Man's Gold and second dam is a ½ sister to record breaking Gr1 winner Wainui, the family of Gr1 winners Sand And Sea, Pointing North and Rodoille
ELUSIVE FORT
Triple Gr1 winning Equus Champion whose best include the likes of Gr1 winners Siren's Call and Lauderdale and graded winners Fort Ember, Elusive Heart and Secret Potion, as well as Gr1 performer Safe Harbour and recent Sophomore Sprint second Elusive Trader
Lot 2 – this filly, whose dam is by top class broodmare sire Spectrum, is out of a granddaughter of SA Oaks winner Logetta, family of Breeders' Cup winning sire Texas Red
Lot 21 – a half-brother to 2 winners, this colt's dam is a half-sister to Gr2 winner La Deportista-dam of East Cape star Juan Pablo and to the dam of top class filly Green Plains
Lot 35 – bred on the same cross as Gr1 winner Lauderdale, this colt (closely inbred to champion sire Fort Wood) is a half-brother to 3 winners including Derby Trial runner up Forafewdollarsmore
Lot 49 – a half-sister to 4 winners, this filly is out of a half-sister to three graded winners, notably US Gr1 scorer Gypsy's Warning and Gr2 winner Surabi, as well as to the dam of East Cape champion Queen Forever
Lot 69 – by a son of Fort Wood out of a mare by another son of Fort Wood, this filly is out of a half-sister to US Gr3 filly Eloquently, from the same family as top sires Cape Cross and Iffraaj and international champions/classic winners Park Appeal, Shadayid, Russian Rhythm and Alydaress
Lot 72-a half-sister to Gr3 performer Dark Force, this filly is out of a Jet Master half-sister to 3 black type performers notably speedy Gardenia Handicap winner Rosinante, her dam is a sister in blood to Listed Jamaica Hcp winner Pan Amm
Lot 93- this classically bred colt is a half-brother to 5 winners including Italian 1000 Guineas winner Evading Tempete and he is bred on a similar cross to his sire's Gr1 performers Siren's Call and Lauderdale, family of champions Kris and Diesis as well as Daily News 2000 winner Surcharge
EQUAL STRIPES
Gr2 winning son of Candy Stripes from the E family, and sire of Gr1 winners Bambina Stripes, Keane, Gran Enzo, Cooptado, Foggy Stripes, and Paulinho
Lot 96 – this colt is out of five time Gr2 winner Liz For Sale, who is a three parts sister to Gr3 Moon Sale, family of Horse Of The Year Tapatio (by Equal Stripes own sire) and Equal Stripes sired Gr1 performer Magica Stripes
FLOWER ALLEY
Travers winner who banked more than $2 million, his best include Kentucky Derby hero I'll Have Another and Gr1 winners Bullards Alley, Lilacs And Lace and champion Lukes Alley
Lot 65 – this filly, closely inbred to Sadler's Wells, is a half-sister to a useful 3 time winner and out of a winning Fort Wood half-sister to Gr3 Acacia Handicap winner Amur Affair
GIMMETHEGREENLIGHT
Gr1 winning son of More Than Ready whose best include Gr1 winners Surcharge and Gunner, and graded winners Barahin, Green Plains, Gimme Six, Hack Green, National Park and Green Pepper
Lot 68 – this colt is out of a winning Encosta De Lago half-sister to Australian Oaks winner Rena's Lady and Aus group winners Vatuvei and Raise, second dam a stakes winner of nine
Lot 89 – this filly is out of a stakes placed Royal Academy mare who is very closely related to Brazilian Champion Sprinter Desejado Thunder (by a son of Royal Academy)
Lot114 – this colt is out of a winning Judpot half to Gr2 performer Ozymandias and Gr3 performer Captainofmysoul, the family of retired triple Gr1 winner Captain America
GO DEPUTY
Gr1 winning millionaire, whose relatives include Fappiano, sire of Triple Crown hero Abashiri and graded winners Changingoftheguard, Flying Ice, Royal Badge, Icy Trail and Pessoa
Lot 63 – a half-sister to four winners, this filly's dam is a sister in blood to Breeders' Cup winning champion and successful sire Macho Uno, also family of Breeders' Cup Classic hero and top class sire Awesome Again (who was sired by Deputy Minister – sire of Go Deputy)
IDEAL WORLD
Blue blooded Kingmambo son is sire of Equus Champions Smart Call and Hermoso Mundo, as well as the unbeaten and very exciting Rainbow Bridge, as well as Coral Bay and Inverroche
Lot 66 – a half-brother to five winners, this colt (whose dam is a sister in blood to Gr3 winning sire Dalghar) hails from the same family as Horse Of The Year half-brothers Daylami and Dalakhani, with the latter also a very successful sire
JACKSON
Triple Gr1 winning son of Dynasty (from the family of Smart Strike et al), he has made an encouraging start with early winners including the likes of Heaven's Embrace, Water Spirit, and Mr Crumford, and Gr1 filly Can You Feel It
Lot 30 – this colt, whose dam is a half-sister to stakes performer Speed Merchant, is out of a Trippi daughter of 4 time stakes winner The Eden Project (the latter's sire West Man hails from the same family as Jackson's own sire Dynasty)
Lot 60-this colt is out of an own sister to Gr1 Empress Club Stakes winner Stratos
Lot 62 – closely inbred to former US champion sire Cozzene, this colt is a ¾ brother to the smart stakes placed filly Baroness Mary (who shares her sire with Jackson) second dam is a 3 time winning daughter of breed shaping sire Nureyev
Lot 100 – a ½ brother to 2 winners (including WSB Grand Series Consolation winner Big Mistake), this colt is out of a winning half-sister to Pretty Polly Stakes winner Miss Ethics, family of high class galloper Tilbury Fort (like Jackson by a Fort Wood line sire)
JAY PEG
Equus Champion and four time Gr1 winner, he is the sire of graded winners Silicone Valley, Woljayrine, Exit Here, Peggy Jay, Olympic Owen, Hot Affair and Flash Drive
Lot 19 – this filly, whose winning dam is by outstanding broodmare sire Canny Lad, is out of a ¾ sister to Epsom Handicap/Queensland Derby winner Dodge
JUDPOT
A half-brother to breed shaping sire Kingmambo, the former Equus Outstanding Stallion has a host of high class performers to his name including Gr1 winners Along Came Polly, Coral Fever (winner of the recent Charity Mile), Forest Indigo and Juxtapose
Lot 85 – a ½ sister to 2 winners, this filly (whose dam is a ¾ sister to multiple Gr1 winner Ebony Flyer) is out of a winning half sister to Gr2 Sceptre Stakes winner Joshlin
Lot 97 – closely inbred to the great mare Lassie Dear, this colt's third dam won the SA Fillies Guineas and this is the family of recent Sweet Chestnut Stakes winner Too Phat To Fly
MANHATTAN RAIN
A Gr1 winning half-brother to multiple champion sire Redoute's Choice, his best includes exported Sun Met hero Whisky Baron and Golden Slipper winning champion She Will Reign as well as recent Geelong Cup hero Runaway
Lot 53 – this filly, inbred to the great Dancing Show, is out of a sister to an Australian stakes performer, and second dam is a Canny Lad half-sister to Gr1 filly and subsequent outstanding producer Kensington Gardens, the family of Gr1 winner and Gr1 sire Blackfriars
MASTER OF MY FATE
The product of two champions, he was South Africa's Leading First Crop Sire Of Winners in 2017-2018 and early promising performers include Cape Classic hero Twist Of Fate, and In The Stars and Goliath Heron
Lot 90 – out of a half-sister to international Gr1 wining sisters Irridescence and Perfect Promise, this filly is a half-sister to eight winners including feature race winner Admiral's Daughter
Lot 109 – a half brother to 2 winners, this colt is out of a Jallad ½ to Gr2 winner Winterinthewoods
NOBLE TUNE
Only sire of champion US sire Unbridled's Song ever to stand in South Africa, he is a half-brother to US champion and dual Gr1 winner Honor Code, early winners include Awesomely Tuned, Play Another Tune, Abelie, Albrandino and Paths Of Victory
Lot 99 – this filly is out of a winning own sister to stakes winner Exelero and Mauritian champion Master Mascus, and ½ sister to nine time winner Last Battle
ORATORIO
Triple Gr1 winner, and dual champion sire in Italy, whose best offspring include Gr1 winners Banchee, Beethoven, Military Attack, Temida, Van Halen, Mourinho, Manwanui, and Biz The Nurse
Lot 5 – this colt is out of Gr2 Sceptre Stakes winner Reflective Image – a daughter of speedy Gr3 performer Velvet's Image
Lot 6 – this filly, whose dam is a winning half-sister to an Australian stakes performer, is inbred to Danzig and her third dam, Gr2 winner Blue Note, is the dam of Danzig sired Gr1 winners Blue Duster and Zieten
Lot 8 – a brother to a winner, this gelding is out of a winning half-sister to short lived Equus Champion and sire Soft Falling Rain and to multiple graded stakes winner Let It Rain
Lot 29 – a half-sister to a winner, this filly (whose dam is by US champion sire Elusive Quality) is out of a daughter of mare who is an own sister to classic winner and Gr1 sire Nedawi, third dam is a Gr2 winning daughter of Northern Dancer and it is the family of 2018 Gr2 winner Nocturnal Fox
Lot 34 – this filly is a ½ to 2 winners notably Gr1 Gold Challenge hero King Of Pain and her dam os a half-sister to Champion Lady Of The Turf, third dam is Aus Gr1 winner Deck The Halls
Lot 52-this colt is out of a Trippi half-sister to Gr3 winner State Blue and second dam is a half-sister to Irish Gr3 winner Chanzi, the family of multiple Gr1 winner Fiesta Gal and current hot sire Malibu Moon
Lot 82 – this colt is out of a winning Hennessy half sister to Arg Gr2 winner Illegally Blonde
PATHFORK
Irish Champion, and half-brother to current Gr1 performer War Of War, his best includes Gr1 Allan Robertson winner Mighty High, star filly Madame Speaker and graded winners My Friend Lee and Red Chesnut Road
Lot 13 – like Red Chesnut Road, this filly is inbred to Sadler's Wells, she is out of a winning Dynasty half-sister to Gr3 winner Fair Rosalind, dam of very smart filly Schippers
Lot 55 – this filly, out of a winning daughter of Var, has a half-sister to Equus Champion, and Gr1 producer, Mother Russia as a second dam, family of Horse Of The Year Winter Solstice
Lot 95 – another inbred to Sadler's Wells, this colt hails from the same family as Breeders' Cup winning champion Miss Alleged, dam of Gr1 local sire, and Gr1 broodmare sire, Joshua Dancer
Lot 103 – a ½ to 2 multiple winners, this filly is out of a four time winning half-sister to Starling Stakes winner School Assembly, second dam is a ½ to Gr1 winner and high class producer Fanciful
PHILANTHROPIST
Former Leading US sire on All Weather, his best include champions Pender Harbour and Phil's Dream and Hong Kong star Singapore Sling
Lot 26 – closely inbred to mighty mare Grey Flight, this filly is out of a winning half-sister to Summer Cup/Al Rashidiya winner Wolf Whistle, Gr3 Peninsula Hcp hero Avant-Guard and Queen Palm Hcp winner Definitely
POMODORO
July winning son of seven times champion sire Jet Master and Broodmare Of The Year Golden Apple, he was South Africa's Leading First Crop Sire, and his early winners include Gr1 winner and Equus Champion Return Flight and former RTR graduate Cirillo
Lot 3 – this colt is out of a winning half-sister to Oaks winner Veiled Essence and 9 time stakes winner Silver Arrow, his second dam is a stakes winning daughter of champion sire/broodmare sire Foveros
Lot 22 – sharing his broodmare sire with July winner Do It Again, this colt is out of Gr3 Final Fling Stakes runner up Splinter, family of US Gr1 winner and sire Broadway Flyer
Lot 24 – this filly, whose dam is by top class Irish sire Mastercraftsman, is from the family of German Gr3 winner Love Regardless and Champion Broodmare Sire Speak John
Lot 25 – this colt, a full-brother to a horse who ran second recently, is out of a four time winning daughter (and ¾ sister to Fillies Guineas winner Rei Rei) of Fillies Guineas winner Star Award, another descended in female line from Drohsky
Lot 27 – out of a mare who won twice, this filly (descended from SA's most famous broodmare Drohsky) is from the same family as champion sprinter Senor Santa and recent Gr3 hero Al Mariachi
Lot 32 – out of a mare who won three (and bred on the same cross as the sire's very first winner), this filly's second dam is Syringa Handicap winner Cool It Mon
Lot 48 – this colt, a ½ brother to 3 winners, is out of a three time winning daughter of US champion sire Elusive Quality and second dam is a winning Silver Hawk half-sister to Gr1 Breeders' Cup Turf winner Dangerous Midge, this colt is a direct descendant of legendary mare La Troienne
Lot 57 – this filly, out of a 3 time winning daughter of champion Australian sire and broodmare sire Encosta De Lago, has a 3 time winning ½ sister to dual Cox Plate winner Fields Of Omagh as a granddam
Lot 67 – a ½ to 4 winners, this colt is out of a winning Elusive Quality mare and second dam is a Queensland Oaks runner up ½ sister to Gr1 winner Lightning Bend
Lot 92 – a half-brother to a multiple winner, this colt is out of a mare who won 4 over 1200m
Lot 102 – a ½ to 2 winners, this colt is out of a winning own sister to a Gr2 performer in Argentina and ½ sister to Arg Gr2 winner Espadilla Nistel, family of champion sprinter Estambul
POUR MOI
One of 4 Epsom Derby winning sons of the great sire Montjeu, his best includes fellow Investec Derby hero Wings Of Eagles and Gr1 winning champion Sacred Elixir
Lot 107 – this colt, whose winning dam is a granddaughter of the great sire/broodmare sire Pivotal, has ten time winner and stakes winner Sweetness Herself as a granddam, the same family as Epsom Derby winner, and Gr1 sire, Quest For Fame and his classic winning dam Aryenne
QUERARI
The Gr1 winning half-brother to two graded/group winners has been a prolific sire of high class winners since retiring to stud, with his latest promising 3yos including the likes of Pleasedtomeetyou and Arianos Shadow
Lot 16 – a ½ brother to four winners overseas, this colt is out of a stakes placed daughter of Sadler's Wells and third dam is champion Talking Picture, his relatives include Irish 1000 Guineas winner Trusted Partner and the latter's Gr1 winning daughter Dress To Thrill as well as Prince Of Wales's Stakes winning young sire Free Eagle
Lot 36 – a ½ to 3 winners including useful racemare Emily Jay, this colt is out of a four time winning daughter of champion sire/broodmare sire Western Winter and Gr1 winner As Ever
Lot 39 – this filly is out of a daughter of emerging sire Gimmethegreenlight, second dam is a half-sister to Equus Champion Mother Russia- dam of dual Gr1 Empress Club Stakes winner Nother Russia
Lot 50 – a ½ brother to 3 winners, this colt is out of a full sister to the graded stakes winners Rushing Wind and Nordic Breeze, the family of short-lived Gr1 winner Yquem
Lot 54 – this colt is a ½ to 4 winners, one of whom won eight, his dam is a winning daughter of champion sire Jallad and Syringa Handicap winner Dot Dot Dash
Lot 58 – bred on the same cross as Gr3 winner Head Honcho, this filly is out of a five time winning daughter of champion sire Captain Al, family of R3 million plus earner No Worries
Lot 76 – a half or full sister to 3 winners, this filly is out of a five time winning Western Winter ¾ sister to the dam of East Cape champion Widow's Lamp, family of champion National Bay
Lot 83 – this colt is out of a ½ sister to ten time winner Ryan's A Lion, third dam is US Gr1 winner Top Corsage
Lot 84 – this colt is out of a full-sister to triple Gr3 winner Depardieu, family of Winter Solstice
Lot 88 – this filly, who already has plenty of paddock value, is a half-sister to 7 winners notably Gr3 winner Key Decision, and Java Handicap hero American Storm, family of Gr1 winner Sergeant Hardy
Lot 101 – this colt is out of a Galileo own sister to the Gr3 placed dam of Gr2 winner Mongolian Falcon, second dam is a daughter of Gone West and Breeders' Cup winning champion Phone Chatter
Lot 116 – this colt is out of a four time winning ½ sister to Gr3 Cape Nursery winner Depardieu and full sister to Gr3 performer Matinee Idol, his stakes placed granddam is a ½ to Horse Of The Year Winter Solstice
ROCK OF GIBRALTAR
Former Horse Of The Year and sire of more than 120 stakes winners, his best local runners include such high class graded winners as Alboran Sea, Gibraltar Blue, Europa Point and Seventh Rock
Lot 77 – closely inbred to Danehill, this colt is out of a Gr2 winner Langoustine and he is from the same family as champion sires Storm Cat and Royal Academy, as well as former high class local sire Goldkeeper
Lot 104 – bred on the same cross as Gr2 Fillies Guineas winner Arcetri Pink, this colt's dam is an own sister to the dam of multiple Gr1 winner La Collina and is also closely related to the dam of SA Derby winner Hero's Honour and Gr1 filly Railtrip
Lot 105 – this colt (whose second dam is by Darshaan – damsire of Rock Of Gibraltar's Gr1 winner Eagle Mountain) is out of a ½ to US Gr1 winner Byrama and to Gr3 winner Klammer – with the latter finishing second to the mighty Frankel in the 2010 Royal Lodge Stakes
SEVENTH ROCK
A Gr1 winning son of Rock Of Gibraltar and Ruby Clipper, his best includes the Gr1 winners Seventh Plain and Guiness as well as Algoa Cup winner Stonehenge and smart sprinter Rocky Valley
Lot 31 – this filly is a half-sister to Gr3 filly Gold Image and her dam is a full sister to Gr2 Sceptre Stakes winner Reflective Image
Lot 38 – a full brother to 3 winners and ½ to the useful Forest Express, this colt is out of a winning Fort Wood half-sister to champion and Gr1 winner Carnadore, who, like Seventh Rock, won the Gold Medallion
Lot 47 – this colt is a full brother to Equus Champion and dual Gr1 winner Seventh Plain, his six time winning dam is a ½ sister to Derby Trial winner East Wind
Lot 113 – a full-brother to feature race contender Seventh Heart, this colt also numbers ill-fated CTS Million Dollar hero Illuminator as a half-brother and his Al Mufti sired stakes placed dam is a half-sister to Gr1 Allan Robertson Fillies Championship winner Silver Arc
SILVANO
Triple Gr1 winner and multiple champion sire, his 20 Gr1 winners include four Vodacom Durban July winners, with Silvano having a total of six Equus Champions to his name thus far
Lot 15 – this colt, out of millionaire and Gerald Rosenberg winner She's On Fire, is a half-brother to four winners notably East Cape Oaks winner She's A Pippa and Final Fling second Icy Fire, his third dam won the July and Gold Cup
Lot 18 – bred on the same cross as champion Aslan, this filly is a half-sister to Gr3 Cape Nursery winner Brilliant Cut, and her Elliodor sired dam is a ½ champion Colonial Girl (dam of Gr3 winning filly Peggy Jay) and own sister to Gr3 winner Lady Firelli, family of Hong Kong based champion Edict Of Nantes
Lot 78 – bred on hugely successful Silvano/Blushing Groom line cross, this filly (a ½ to winners overseas) is out of a mare who is very closely related to Rahy sired Gr1 winner and Gr1 sire Noverre as well as to the Blushing Groom champion Arazi
SOFT FALLING RAIN
Sadly now deceased, the Equus Champion, and Gr2 Godolphin Mile winner, was one of 16 Gr1 winners sired by Danzig horse National Assembly with Soft Falling Rain's relatives including Kentucky Oaks winner Gal In A Ruckus and outstanding sire Smart Strike
Lot 42 – this colt is out of a winning half-sister to former Joint Horse Of The Year National Colour (dam of the Gr1 winning own brothers Rafeef and Mustaaqeem) who, like Soft Falling Rain, was sired by National Assembly
Lot 87 – this colt, a half-brother to 3 winners, is out of a winning half-sister to Met winning champion Smart Call and second dam is a half-sister to July winning champion Greys Inn – the sire of multiple Equus Champion Legal Eagle
TIME THIEF
A stakes winner, and Gr1 Caulfield Guineas runner up, he is a Redoute's Choice ¾ brother to champion sprinter Laisserfaire and his best includes Australian Gr1 winner In Her Time – who has banked over AUS$2 million in stakes
Lot 14 – closely inbred to Danehill, this filly is out of a winning Exceed And Excel half-sister to German Gr2 winning 2yo Mokabra, and this is the family of Aus Gr2 winner Noble Protector
Lot 23 – inbred to Danzig, this filly is out of a winning half-sister to multiple Gr1 winner Snowdance and stakes winning speedster Victorian Secret, her Gr3 winning second dam is a ½ to Equus Champions Bela-Bela and Rabiya and the dam of Gr1 winners All Is Secret and The Secret Is Out
Lot 44 – another inbred to Danehill a half-brother to a five time winner by Latino Magic, this colt is out of a winning Galileo mare and he is from the family of Gr1 winners Ertijaal and Rewaaya and high class sires Snippets and Not A Single Doubt, second dam is closely related to Golden Slipper winner Forensics
Lot 79 – this filly is out of a winning ½ to an Australian stakes placed winner of seven
TRIPPI
Champion Sire in 2015-2016, his 70 plus stakes winners include Gr1 winners Lobo's Legend, Real Princess, Inara, For The Lads, Afrikaburn and R Heat Lightning, with his current stars including the likes of Chimichuri Run and Diana winner Love To Boogie
Lot 51 – this filly, a member of the famed Denise's Joy family, is out of a half-sister to the dam of Aus Gr2 winner Don't Doubt Mama and 2YO stakes winner Risen From Doubt, third dam is Danehill's Queensland Oaks winner Joie Denise – also second dam of outstanding 21 time winner More Joyous
Lot 112 – this colt, bred on the same cross as R6 million buy Charles, is a half-brother to smart winners Frank Lloyd Wright and Mar del Sur and his Gr2 placed dam (who won seven) is a half-sister to three graded stakes winners family of recent Aus Gr2 winner Viridine
TWICE OVER
European champion and four time Gr1 winner whose first crop includes Equus Champion and July winner Do It Again, Gold Medallion winner Sand And Sea and Winter Derby winner Doublemint
Lot 20 – this colt, out of a Rich Man's Gold ½ to Gr3 performer Win A Million, is out of a half-sister to recent Michaelmas Handicap winner Warfarer and his second dam was a stakes winner of five
Lot 43 – this colt, a ½ to 2 winners including stakes placed Outlander, is out of a stakes placed five time winning ½ to exported Gold Medallion winner Zeeno and to sire Skitt Skizzle, who was recently represented by his first winner, like Sand And Sea he is inbred to Blushing Groom
Lot 46 – this filly is a half-sister to Golden Slipper winner Desert Rhythm and she is out of a winning Al Mufti half-sister to Met runner up and deceased sire Lion Tamer
Lot 80 – a ½ to 2 multiple winners, this colt is out of a useful daughter of champion Australian sire Exceed And Excel and is from the family of champions Busted and Spook Express as well as former successful SA sire Elliodor
Lot 115 – a ½ to winners overseas, this colt is out of a 3 time winning daughter of truly great broodmare sire Darshaan, the family of Gr1 Natalma Stakes winner Capla Temptress
Lot 117 – a brother to a winner, this colt is out of a Captain Al ½ to Gr1 Daily News 2000 third Lubricator
VAR
Champion Sire of 2YOs the past two years running, his best includes champions Variety Club, Val De Ra and Via Africa, as well as Gr1 winners Sommerlied, Contador, Villandry, Normanz and August Rush
Lot 40 – this colt is out of a winning daughter of the stakes placed mare Fancy That and is from the family of Arc winning champion Suave Dancer, recent SA Gr2 winner Wonderwall and outstanding broodmare sires Habitat and Northfields
Lot 56 – this filly is out of a winning daughter of champions Sebring and recently deceased National Colour, and her dam is a ½ to Equus Champion Mustaaqeem and Gr1 winning sire Rafeef
Lot 59 – inbred to Crimson Saint, this colt (an own brother to a multiple winner) is out of a full sister to Gr3 performer Quick As Lizard and ½ to Prix du Cap winner Winter Burst, third dam is a Golden Slipper winning champion
VERCINGETORIX
Son of multiple champion sire Silvano, he was an Equus Champion in South Africa and won the Gr1 Jebel Hatta in Dubai, had first crop yearlings make up to R2.2 million this year
Lot 41 – a half brother to the useful Zud Wes, this colt, inbred to Nijinsky II, is out of Gr1 winner Zaitoon and hails from a magnificent family whose members include Kentucky Derby winner Winning Colors, champion and top class sire Chief's Crown, and the multiple Gr1 winning ½ sisters Sightseek and Tates Creek
Lot 73 – this filly is out of a Captain Al ½ sister to stakes placed filly Miss Marker, second dam is a Fort Wood half-sister to Champion 2YO Special Preview and to stakes winners Classic Preview and Top Classic
Lot 106 – this colt is out of a winning own sister to high class performers Queen Mira and Umgiyo, and second dam is a Sadler's Wells own sister to French Gr1 winning 2yo and sire Alberto Giacometti
Lot 111 – out of a Sadler's Wells daughter of French stakes winner Ingeburg, this filly is from the family of retired 2018 dual Gr1 winner Poet's Word and St Leger winner Harbour Law
WHAT A WINTER
Triple Equus Champion and former Champion First Crop Sire, his early stars include the likes of Dutch Philip and Magical Wonderland, his current 3yos include star filly Clouds Unfold
Lot 7-this filly is a half-sister to 5 winners notably Gr3 Godolphin Barb winner Punk Rocker and Cape Fillies Guineas third Taffety Tart
Lot 12 – this colt is out of a ½ to the stakes placed multiple winner Platinum Cat
Lot 37 – a ½ to 2 multiple winners, this filly is out of a winning half sister to Gr1 winning 2yo Exhilaration
Lot 98 – out of a winning daughter of Dynasty, this colt is from the family of graded stakes winners Decorated Hero, Royal Exit and Umngazi
Lot 110 – this colt, a ¾ brother to Gr3 Prix Du Cap winner Croc Valley and Gr3 performer Komatipoort, is a half brother to 6 other winners including stakes winning sire Galileo's Night
WYLIE HALL
Dual Gr1 winner, and first past the post in the 2014 Gr1 Vodacom Durban July, he is a son of triple Australian champion sire Redoute's Choice, whose other sire sons include the likes of Snitzel, Stratum and Not A Single Doubt
Lot 1 – this filly is out of a winning Fort Wood half-sister to 2 black type performers notably Gr1 2yo Kilcoy Castle and to the dam of recent Sweet Chestnut Stakes winner Too Phat To Fly
Lot 4 – this colt is out of a mare who won three and his granddam is a half-sister to US/SA Gr1 winner Crimson Palace and the dam of Matchem Stakes winner Changingoftheguard
Lot 17 – this filly is out of a winning Jet Master ¾ sister to Gr3 Acacia Hcp winner Off The Mark and Gr1 Gold Medallion runner up Sports Coach, second dam is a sister to Cape Fillies Guineas winner Sport's Chestnut
Lot 33 – this colt is out of KZN champion and Gr2 SA Fillies Nursery winner Virgo's Babe
Lot 75 – a ½ to 4 winners, this filly is out of a daughter of champions Giant's Causeway and Burst
Lot 86 – this filly is out of a winning Silvano ½ sister to the stakes placed filly Jolly Poppins
Lot 94 – this colt is out of a ½ to Gr1 Woolavington 2000 winner Imperious Star (dam of Gr1 2yo Double Appeal), and second dam is the Met winning champion Imperious Sue