One of South Africa's greatest jockeys of all time  has been officially boarded – and a longstanding KZN assistant trainer has joined the Snaith Racing Team .
These are just two items, together with a notice advising the NHA AGM, in the racing regulator's latest calendar, which contains a variety of interesting items.
The SA Champion jockey of 2008/9, Andrew Fortune has thankfully not been lost to the game as he plays a key role in his wife Ashley's Vaal training operation that has made a flying start in just their first full season.
After a partial knee replacement a while back Andrew said: "It still shakes after a couple of rides. I'm over 50 now, I've had five operations on my right knee, and I have arthritis."
Tony Rivalland bid farewell to his long-time assistant Terry Fripp who joined the Snaith team in Cape Town.
Fripp wrote on social media recently:
"8yrs ago I joined a small, professional outfit called Tony Rivalland Racing Stables, and it's with a heavy heart to announce that today (mid September) was my last day working for Tony. Not only was he my boss, but a friend as well. A fantastic team of owners and a competent staff."

Notice is also given that the One Hundred and Thirty Seventh Annual General Meeting of Members will be held at the offices of The National Horseracing Authority of Southern Africa, Turffontein Racecourse, Turf Club Street, Turffontein, on Wednesday, 16 January 2019, at 14h00.
Proposals by Members for inclusion in the Agenda for the Annual General Meeting are to please reach the NHA by 5 December 2018.
Should you have any queries, please feel free to e-mail the NHA at [email protected]
‹ Previous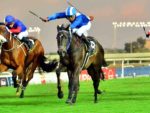 Var Filly Books Cape Gr1 Ticket