In this age of heightened awareness around the use of the crop in horseracing, an apprentice's indiscretion in striking a fellow rider intentionally with his stick in a race at Greyville a few weeks ago was rather bizarre poor timing.
After another tumultuous year of more downs than ups, our often maligned racing regulator has lifted its game in the past month on the PR front with some inspiring initiatives, including the no crop move and some good news stories on their blog about retired racehorses.

While the industry sits on tenterhooks waiting to hear who will fill the bum roasting seat vacated by Lyndon Barends in September, it would appear that here is much debate and mulling over the CV's submitted for the post of head man of the National Horseracing Authority.
We are now heading for over six weeks since the post closed for applications – and mum's the word.
But acting CEO Arnold Hyde, thrown in the deep end, has shown great resolve in attempting to bolster the news mill with positives.
Thanks to Hyde, following on the hooves of the Mayfair Speculators saga and other debacles, it is good to see South African horseracing receiving a bit of positive press at home and abroad.
It was reported yesterday on www.thoroubreddailynews.com in an article entitled 'Whipping Horses: They See Things Differently In SA' that we are in essence almost world leaders when it comes to lifting the public image of the sport through our focus on the crop.
It was Hyde who assisted his daughter Meghan in adopting an ex-racehorse called Dollar Bill from the Highveld Horsecare Unit.
Read more here about Meghan's horse
And it was the same guy who gave life to the inaugural crop free race on 3 November, won by a  horse who now finds himself a serious entrant in the first 29 for the 2019 Sun Met.
While we are probably years away from joining Norway in crop-free racing, there is a lobby on both sides of the fence as to what will work best. The fact that somebody is addressing a possible turn-off to attracting a new generation to the game is heartening.
It's probably largely about education.
As a racing intellectual put it to us:
"Blinkers are not there so you can blind a horse. Shoes are not there so you can hit nails in a horse. Bits are not there so you can tear a horses' mouth. And sticks are not there to flail at a horse. It's equipment to control a giant animal from on top. If a kid beats another with a cricket bat, you don't play the next innings with a butterfly net.  You ban the kid, not the bat!"
Read more – click the image below

‹ Previous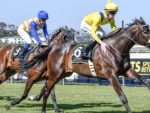 Adam's Apple Of His Eye!