Normandy Stud has been a strong supporter of the Ready To Run concept since its inception. With Oscar Foulkes being a strong proponent of Maine Chance Farms' resident sire, Querari since his first crop hit our tracks, these two aspects have come together neatly in their draft for the forthcoming 2018 Cape Thoroughbred Sales Ready To Run Sale.
The BAR Valley Stud kicks off proceedings with Lot 1, a Wylie Hall filly out of Rachel Leigh (Fort Wood), but are offering a 25-strong consignment with 14 lots direct from Normandy and 11 as agent. Oscar Foulkes tells us what's in store for this year's draft.
Oscar
"We're super excited about the line-up of horses this year, which really is saying something as our 2015 draft contained Sergeant Hardy, Crowd Pleaser, Nordic Breeze and Bishop's Bounty. One can't really say one year's draft is better than another, but I think this year's draft is particularly exciting," he enthuses.
"We have an amazing line-up of Queraris, plus a few other horses we've pin-hooked from other sales. When I looked over the draft recently, I was gobsmacked – I couldn't believe we'd ended up with a line-up of horses like these. I'd been quite pleased with them before we started prepping, but they've really all gone in the right direction," he says proudly.
He is particularly excited about their Queraris.
"When I was little, my parents' party trick was to get me to recite the male line of Hyperion. I was obsessive in consuming knowledge about racing and breeding. When I was 15, my parents took me to the Form Organisation in my school uniform and said 'teach him'. I had to get special permission from school, but got to spend my afternoons there doing research. One of my jobs was to go through the supplement of the Stud Book and write out crop by crop by stallion, listing colts and fillies. Then I'd go through the Racing Calendar and look up their track records. What left a major impression on me was the need to look at all foals to evaluate the strike rate for a stallion."
"Form imported Russian Fox, who stood with Piet Nel, so we watched him foal by foal and run by run as his progeny hit the tracks. The concept of watching a young stallion in the right kind of detail was imprinted on me a long time ago. I've watched Querari from the beginning – from Champery posting back to back wins, I've been assembling a picture of how extraordinary he is. Even though he's only had a small number of foals, he has a high percentage of winners and a very high percentage of stakes horses, which is now being translated into a very high percentage of stakes winners."
Querari
In his first three crops, Querari had 122 named foals, at a rate of 73% winners to foals and 10% stakes winners. "That puts him in the league of Captain Al, Drum Beat, Persian Wonder, etc." marvels Oscar. "He may not have the 100 foals per crop to make him champion sire, but in terms of his statistics, he's extraordinary."
Normandy are offering eight Queraris on their Ready To Run draft, all specifically selected for this sale. "We're not even a shareholder in the horse," quips Oscar. "But when we saw what was happening with his 2yo's, we sent 10 mares to him that season and 10 again the following year. We can't get to him in the same numbers now, of course, but to give you an example of what's on our draft, we're offering a Querari colt out of a full sister to Nordic Breeze (Lot 50), and Lot 36, a colt we bought on the April sale, which is a half-brother to Emily Jay (a 7-time winner by Jay Peg)".
"Charles Faull once told me a story of a trainer going to the sales when they were offering High Veldt's last crop with the intention of buying all of them. He purchased all but one that he didn't like the look of and he turned out the best of the lot."
"Wherever I turn, I see Queraris winning races. While no sire is universally sensational, what the percentages teach us is that no matter what they look like, they all run. And when you have a horse producing 10% stakes winners and you know one in 10 is going to be good – that's what I find exciting. I believe it's also significant that his early crops were not out of the best mares, which makes the performance even more remarkable."
Quality line-up
While there is plenty of enthusiasm for the Queraris, there is an equally high quality 'supporting cast' including progeny by Seventh Rock, Twice Over, Captain of All, Jackson, Judpot, Pathfork and Vercingetorix amongst others and a few fun stories to boot.
"Other interesting snippets about our draft are that two are out of mares that were 2yo's when the matings were done. One is out of a mare called Janis (for Janis Joplin). She was being prepared for R2R when she slipped on the road and cut herself. My mother could have kept her and put her in training later, but decided to retire her to stud instead."
"Janis's dam Diva (hence the name) is also the grandam of another Querari colt on the sale, via the mare Prima Donna. We've named the Janis colt Psychedelic and the Prima Donna colt Lead Singer, keeping with the theme. The other mare mated at two is a Gimmethegreenlight called Yekaterina, and coincidentally her half-sister (Carmina) also has a filly on the sale."
"Our policy is to sell our yearlings unnamed, but given the delays at NHRA, we've named all our two-year-olds so that there's no delay if buyers want to nominate them for a race soon after the sale."
Normandy and Ready To Run
With a shade over 100 horses catalogued to go under the hammer and the sales race open to 16 runners, nearly 16% of the horses on sale will be eligible for the R2,5 million Ready To Run Stakes. Some of the RTR entries are also eligible for the CTS millions races, and the Klawervlei farm sale race, making it a particularly alluring proposition. But even without the associated sales race, this sale boasts excellent results.
"We are very enthusiastic about the Ready To Run concept as it takes a lot of risk out of the buying process – and I think it's fair for buyers, and fair for the seller. Apart from everything else, horses are in training, they've been broken in, they're in full work. If you bought a horse in April, you'd have to pay his keep on a spelling farm, spend money on pre-training etc – there are a lot more expenses involved. Buying here means all that's been done for you, so in theory, you could buy and nominate the next day. And, most importantly, buyers get to see how the horses move at pace."
The Proof of the Pudding
"When the concept first launched in South Africa, I think people considered it a bit of a last resort for horses that couldn't get onto other sales," explains Oscar. "But people don't go to the expense of preparing horses for Ready To Run if they don't think they have prospects. What's happened in the last five or so years is that there's been a concerted effort to select horses for this sale that are worth the extra time, effort and investment – and it shows in the results. Good horses come from that sale with Sergeant Hardy being a great example."
Value
Normandy has always prided itself on producing the goods with horses that don't cost the earth and Oscar expands proudly, "A few months ago, we came across one of Eppie Nelson's old books about South African studs. Paging through, we realised that the De Wet family, which my mother is part of, have been breeding in Ashton for well over 100 years. At this point I'm the only De Wet of this generation that has shown any signs of continuing the legacy, so I feel quite a big responsibility."
"The big thing with Normandy is that a lot of families have been with the stud since early 70's. It's always a story of a family that's producing nice horses and how we keep working them – it's kind of a continuation of a project that's been going on for decades."
"When we're buying mares, or keeping fillies for stud, it's always with a view as to where this is going. It might not be for immediate commercial benefit, but we know the latent ability that is there and hope we can breed nice horses out of them."
"Where we can shine at Read To Run is by selecting carefully, preparing well and hopefully go on to be Gr1 winners. I did an exercise last year and went through all the Normandy Stud Ready To Run consignments back to the late 80's. The very first year we sent horses to Ready To Run, we consigned Germiston November winner Quick Wit, Knife Edge, who was a top sprinter by Fine Edge and some other very decent horses. I think there's fair value for everybody. Crowd Pleaser was a R380k purchase, which for a good looking Captain Al colt is not a lot of money and he's been a good horse. Ken Truter paid R200k for Nordic Breeze. These aren't horses that go for multi-millions, but they pull their weight!"
So there you have it.
Gallops will commence at 9:30 at Durbanville Racecourse on Friday, 23 November 2018 and the first lot will be led through the sales ring at 6pm.
View the catalogue here.
‹ Previous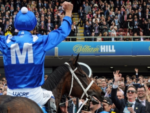 Shopping For The Next Winx?