Dear Madam Chair
It was refreshing to read your letter to Members outlining Gold Circle's recent achievements and encouraging them to participate in the important upcoming elections.
Gold Circle member Peter Gibson of Durban writes in the Sporting Post Mailbag:
As a longstanding supporter of the sport of horseracing, investor in both career and bloodstock, an owner, breeder and Member of Gold Circle, I believed it necessary to raise some issues in the public (members) domain ahead of the AGM and hopefully stimulate healthy debate amongst those with an interest in the overall wellbeing of the sport in KZN.
Notwithstanding external factors such as relationships with the likes of Phumelela (and more recently, Kenilworth Racing), Tellytrack, bookmakers, gambling boards and declining turnovers, there have been major strategic decisions taken by the various Boards serving Gold Circle that might have contributed to the current state of affairs in KZN, and many would argue that it is not quite as healthy as stated.
The following is a brief summary of these major decisions (but not limited to them only):
Sale of Clairwood Racecourse (Gold Circle's only racecourse asset in KZN) and the development of the new and expansive stabling complex at Summerveld Training Centre
Separation from the asset rich and hugely important Western Cape Racing which at the time shared Gold Circle's much lauded "charitable/non-profit" philosophy
Development of an incomplete Polytrack at Greyville and the subsequent narrowing of Greyville's Turf Track with a range of unfortunate consequences
Sale of Gold Circle's share of a national bookmaking asset, Betting World, replaced by a new and parochially-based operation, Track And Ball
It is reasonable to suggest that hindsight offers perfect clarity.
However, it is hard not to argue that had an independent entity, potentially the old KZN Owners & Trainers Association, been in existence as a natural counter or sounding board (by the significant investors in racing), many of the above strategies would have been altered or stopped entirely.

Furthermore, with recent events having rocked the South African horseracing industry, it is quite clear that it is entering a phase of major change, but one that also presents significant opportunities to address flaws and create a new commercial model that ensures the sustainability and vibrancy of the sport.
Historically, Gold Circle has engendered a spirit of national co-operation and can again play a leading role in this process.
In penning this letter, I write in my personal capacity only and disclose my nomination as a Director for the 2018 elections.
‹ Previous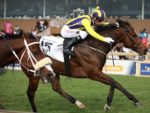 Speed Handicap Attracts 30 Entrants