Under the theme, African Luxury: Precious Metals, Cape Town's most prestigious horse-racing event combines high-end fashion with world-class entertainment – both on and off the race track.
Inspired by opulence, the theme for the 2019 edition of The Sun Met is a celebration of luxury with racing enthusiasts and fashionistas expected to shimmer and shine on Race Day.

Africa's Richest Race Day, The Sun Met Celebrated with Mumm, returns to Cape Town on 26 January 2019.
Precious Metals set the scene for the day as Kenilworth Racecourse will transform into the city's most glittering runway, adorned with gold, copper and platinum. Inspired by the riches of the earth, the theme is a celebration of Africa's most luxurious gems with racing enthusiasts and fashionistas expected to don their most opulent outfits.
In contrast to last year's theme, which brought Kenilworth Racecourse to life in shweshwe textures and African-inspired prints, the 2019 Sun Met promises to be just as glamorous on a day when elite horse-racing meets high-end fashion. Whether you go bold in gold, rock the red carpet in copper or parade in platinum, get ready for a dazzling day at the races.
As the headline sponsor for the Sun Met, Sun International is excited to host the 2019 edition of The Sun Met Celebrated with Mumm.
"We're looking forward to the public coming out in bold and daring attire for this celebration of our beautiful continent and to stand a chance at being crowned the best-dressed for the day",says Rob Collins, Sun International's Group Chief Strategy and Operations Officer.
On top of 13 thrilling races, some of the entertainment industry's biggest names will be in attendance with details to be revealed soon.
Ridden by Grant van Niekerk, the 2018 winner Oh Susanna became the first 3-year-old filly to win the Sun Met since Maid of Honour in 1888.
General access tickets and hospitality packages for the Sun Met 2019 are now available at www.ticketpros.co.za.
‹ Previous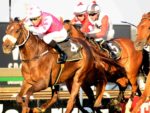 Lerena On Fire