Phumelela have requested that punters should note that the false rail for Thursday's race meeting at the Vaal racecourse has been set at 12m around the bend.
A false rail has also been set down the entire straight, from the 1600m mark. The false rail stretches all the way to the pull-up area.

The reason for the false rail is to give the Vaal Inside track a chance to recover from the previous race meeting.
According to track manager Thomas Rasasamola, the rail setting affords horses a fresh track surface to race on.
Clyde Basel, Racing Executive for Phumelela, explains that Thursday's meeting was added to the racing schedule because a number of recent race meetings scheduled for the Vaal had to be either moved to Turffontein or abandoned due to the Vaal track surface not being race ready. In order to avoid this in future, it was decided to reconfigure the rail position for this meeting.
"It is important to note that the track manager can change the rail configuration up until the morning of a race day should conditions change," said Basel.
Of the 10 races to be run at the Vaal tomorrow, nine will be run down the straight. Only Race 6, over 2200m, will be run around the bend.
"We felt that adding an extra race meeting was necessary to give owners, trainers and jockeys the chance to make up for lost opportunities resulting from cancelled and or abbreviated recent race meetings," said Basel.
Ed – the pic used is a generic rail shot
‹ Previous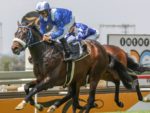 NHA Praised For No Crop Race