It is rare to see Hong Kong champion jockey Zac Purton salute after a victory – even in a Group 1 race – so when he stands up in the irons and flourishes the whip, you know he really enjoyed it.
The South China Morning Post reports that Purton did that after You Have My Word's narrow victory at Sha Tin on Saturday, and there was some extra meaning to it.
Hong Kong racing fans immediately twigged the significance – and that Grant van Niekerk was on the receiving end of a bitter lesson.
Purton is in a spat with Van Niekerk – both on and off the track – which was brought into the public sphere after the Australian was critical on Twitter about one of the South African's rides last month.
Stewards handed Purton a HK$5,000 fine last Wednesday night for "inappropriate behaviour" over the incident, which had a crack at Van Niekerk's handling of You Have My Word – the very same horse that Purton was celebrating on a few days later, having persuaded the connections to "jock off" Van Niekerk and give him a chance on the gelding.
Purton was determined to deliver a victory for trainer Benno Yung Tin and remind the newcomer from Cape Town who is top dog in Hong Kong.
"Sometimes life in racing can be a little bit boring and a little bit of drama adds theatre to things," Purton said.
"It's been a bit of a talking point in Hong Kong. Obviously, I'm not allowed to be critical of Grant but I'm sure he'll go home and watch the replay and he would've learned something out of what happened last time and today."
Purton is at his best when challenged, as he showed last season in his championship fight with Joao Moreira, and it was reiterated on Saturday when On Saturday, Karis Teetan took out the opening race to join him at the top of the current table on 24 wins.
But that tie only lasted until the third race when Purton punched home the first of a treble.
"I know how things are going," Purton responded when asked if he was aware that South African-trained Mauritian Teetan had levelled up with him.
"Karis has got a lot of support at the moment, he's going well, he's enjoying his racing which is good, but there's a long way to go so I'll keep chipping away."
By the end of the day the lead was back to three wins thanks to You Have My Word and Frankie Lor Fu-chuen's duo of Right Choice and Witness Hunter.
‹ Previous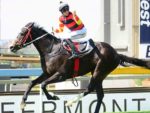 Bay Watch On The Dingaans!