Declarations are due on Thursday at 11h00 for two of South Africa's leading classic races.
The R1 million WSB Gr1 Cape Guineas and the R1 million WSB Gr1 Cape Fillies Guineas will be held at Kenilworth on 15 December in what promises to be a double bonus after Saturday's Gr2 Green Point Stakes thriller.
These are the first alternate legs to the Triple Crown & Tiara series taking place on the Highveld from February 2019.
Trainer Vaughan Marshall will be bidding to win his third straight Cape Guineas with a son of Captain Al after William Longsword (2016) and Tap O'Noth (2017). Marshall won the Cape Guineas with the now deceased multiple champion sire in 2000.
Kenilworth Racing are hosting a Christmas Market on course – perfect timing to get your last minute Christmas gifts .

There is a designated and secured kiddies entertainment area and every child at the course will receive a lucky dip gift. Father Christmas will also be making an early appearance.
The Guineas final fields will be announced by 14h00 on Thursday.
‹ Previous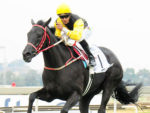 Highveld Autumn Season Promises Plenty