There is a short list of 'Usual Suspects' when it comes to training a winner in recent times, in a Green Point Stakes, Queen's Plate, or Met.
The high-fliers who have almost unbelievable 'track records'  when it comes to saddling deep purple-breds, given them by the absurdly wealthy, monopolistic, self-importants who cartelize our industry, writes Tony Ridgway.
Those 'usual suspects' need not be named here, as we all know who they are, BUT… THIS SEASON they need to watch out for a certain veteran trainer from Milnerton; an unassuming horseman who learned his trade four decades ago, first as jockey (like his Dad before him) and then as trainer.
A "gut" trainer, like the great Syd Laird was; in the days when sheer talent, and not science, technology and absurd amounts of money, was King.
Arthur Eric Sands saddled his first winner in October 1983, at, of all places, Bloemfontein. For two decades thereafter, he trained some great horses – none of them overtly bred for success – and built up a reputation for finding horses that "look like horses, not necessarily royally bred." (His words to me when I visited his racing stable a few days ago).
Among his brilliant performers (all with amazing stories, told to me by Sands himself) were: Flobayou (a winner of 19 races), Jamaican Warrior, Perfect Promise, Double D'Or, Grande Jeté and a special Jet  Master filly HALFWAY TO HEAVEN.
In 2004, disaster struck his stable, with the fluke deaths of his top horses, being readied for a potentially big Natal season.
From behind his desk, Sands spoke softly, affectedly about it, but, some 14 years on, it quite palpably still hurt, and so we discussed it OFF THE RECORD.
For the last decade or more ( and whilst the "Young Guns" have been cornering the market), Eric has been through the desert, like in the song, with horses with no names. Quietly finding his way back to success in his own unpretentious, pragmatic, "gut-feel" manner.
Fittingly, Sands, with a "mediocre" budget given to him by the late Chris Gerber, bought the son of his beloved filly HALFWAY TO HEAVEN, out of IDEAL WORLD, a bay named RAINBOW BRIDGE, foaled on August 19, 2014.
Sands has been uber-patient with RAINBOW BRIDGE – did not rush him into racing, like many currently do, and his hard-work, patience and methodology seem to be PAYING OFF… RAINBOW BRIDGE is 4 years old, and unbeaten in 5 starts; five impressive starts.
He can sprint, go the mile, and should be certain to stay at least a Met trip. There is a story concerning a jockey to regularly pilot him, but it's come to the conclusion that the brilliant Bernard Faydherbe won't give him up, so impressed with the boy is he. His last grass gallop was beyond impressive (we watched Faydherbe take him through his paces, and that EXTRA GEAR he has was there, even though not needed, to blow his working companion away).
It was a wonderful, heart-warming experience to visit the Sands stable; a morning spent with a man with so much passion for the Sport of Kings, someone from the "old school", who cares more for his horses than their price tags, someone who truly "honours the process".
Of course, I got to meet the star himself; a friendly boy, with what looks to me like a map of South America on his forehead. I asked him if he's afraid of the Legal Eagles, Undercover Agents, or younger brothers. His answer: "neigh."
‹ Previous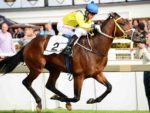 Team De Kock Head For Dubai