Former jockey and present day Milnerton trainer Paul Reeves has been around horses for over 35 years but still enjoys the warm feeling of a plan come together for his band of loyal owners.
And, while not a punting stable, he is even happier when the Bookies are generous and are dishing out money.
In the first juvenile race of the season at Kenilworth on Saturday, Paul saddled the What A Winter filly Chilly Winter who went off at 13-1 in the face of the ample support for Var first-timer Shinnecock, who jumped at 9-20, and was said to be working up a storm at home.
History now shows that the Reeves' R250 000 CPYS graduate rallied powerfully under promising 2,5kg claimer Sandile Mbhele to get the better of Shinnecock in the final stages of the 900m dash.
The Sporting Post was approached by a few unhappy punters. They were asking simply – why was there a 'no comment' annotation published next to Chilly Winter – and was it not strange that she was the second most traded horse in the race on Interbet?
"Let me just confirm that nobody phoned me for a comment for Chilly Winter. I am not in the habit of declining comment requests on runners from the media. Nobody called me," said Reeves, who added that he could not clarify the betting activity, short of pointing out that Chilly Winter was owned by eight individuals, and it was their prerogative to have a bet and use the trainer's assessment in any way they chose.
Let's be straight – taking on the powerful Justin Snaith-Richard Fourie combination and a beautifully bred Var first-timer with an inexperienced apprentice jockey riding a filly who had never seen a racecourse, takes some courage. But at double digit odds, the courage came cheap!
"She had never seen the racecourse and was trained purely on the Milnerton tracks. She is quick and impressed us. I know from experience that a good 2yo filly is very capable of beating a good 2yo colt. Richard Fourie, who rode the obviously smart favourite, is a world-class jockey. But we were getting 2,5kgs sex allowance and 2,5kgs for Sandile's claim. I was happy to take the 5kgs start over the 900m!" says the astute horseman.
Paul said that he had given his owners the confidence and was only approached for a comment by Fiona Ramsden on the course prior to the race.
"I gave a positive indicator that we fancied her. We don't need to play games. We earn a living out of the game," he added.
Paul said that Chilly Winter is likely to be seen next time on Sun Met day when she will run in the Listed Summer Juvenile Stakes.
Bred by Gold Circle Director Neil Butcher, the winner is out of the Dylan Thomas mare, Caitlin, who won once at 1450m.
‹ Previous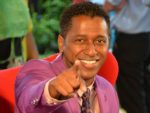 Vee Moodley Is New NHA CEO