South African horseracing bid a sad farewell on Monday to one of the great characters and a legend of the game.
Peter Grenville Kannemeyer passed away at his Milnerton home earlier today at the age of 85. He had been ill for some time.
A retired heavyweight jockey and champion trainer, he celebrated a half century in the sport after handing the reins to his son Dean at the turn of the century.
A man of extraordinary charm and genuine warmth, Peekay, as he was affectionately known, had been around the block in horseracing.
From the trials of life as a heavyweight jockey, to the glamour and success of being a celebrated trainer who hobnobbed with the wealthy and elite, he saw it all and he regaled friends and the media with great stories and tales of the way the game once was.
The Cape Hall Of Famer won many Gr1 races across South Africa but always held his six winners on a day as his most memorable achievement.
Peekay decided at age 16 to become a jockey.
He started with Spike Lerena's grandfather, Bob Lerena, and over a period of 20 years rode successfully for Stanley Gorton, and then 3 years for Terrance Millard and 11 years for the late Theo de Klerk.
A conversation one day in 1969 changed his life forever.
His mentor Stanley Gorton took him aside and said: "Son, I am going to retire soon and you need a new lifestyle. You can't go on bringing up your food. You are going to kill yourself. I want you to take over my stable. I will give you 80 years of experience, 40 years from my father and 40 years from me.''
Peter's first runner was a winner and his first smart horse, Prairie Prince, followed not long after that. He was a 1400m specialist and won nine races, including the Cape Flying Championship, the Diadem Stakes twice and the Clairwood Merchants.
He was a close follower of his son Dean's yard and up to a few years ago would visit the Milnerton stables to chat to the staff.
He once told the Sporting Post how racing had changed.
"In my day the Stipes took no nonsense. Dennis Drier's Dad Ginger was our starter down here in Cape Town. There were six tapes across the manual start. If you took a chance and jumped early you were hammered with a fifty pound fine then and there. No questions. No nonsense. And you got yourself a few burn marks on your neck for the overzealousness!"
On his colleagues, Peekay and his old friend Alan Higgins, who died in 2014, were the last remnants of a bygone golden era.
He told us that he missed the camaraderie of the early days and said that he was privileged to have trained alongside some of the legends of the game – Terrance Millard, Syd Laird, Cookie Amos, Willie Kleb and Jackie Bell.
He quipped in a  2013 interview with the Sporting Post that his doctor told him he would live to 100.
"That's good news. But Son, I am not sure that I have budgeted to go that far!"
A salt of the earth gentleman, Peekay will be sadly missed by all in racing.
He is survived by Dean, Mark, Lisa and grandchildren.
‹ Previous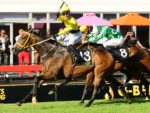 What A Summer!