Longserving Bass Racing Assistant Trainer Trevor Taylor has called it a day after over 31 years service with the Milnerton-based family operation.
Described on the Bass Racing website as the driving force behind the champion operation, Trevor's knowledge, stable management skills and expertise over more than three decades were a major factor in the yard's growth and success.
Trevor's involvement in horses began in 1967 when he joined the SA Jockey Academy working under the late Allan Higgins. He later joined Allan as his assistant trainer for a decade.
Trevor joined Mike Bass in 1987.
He is widely acknowledged as a music fundi and respected by his peers as one of the most low-profile horseman in the industry – and always chose to avoid the limelight. It was even difficult finding a pic of him.
Enjoy the retirement, Trevor!
‹ Previous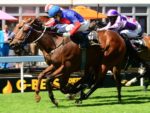 Jet Master Sire's Stakes Icebreaker