Current Tellytrack CEO Rob Scott will assume the role of Phumelela's Sports Betting Executive after the resignation today of Vee Moodley.
Following the resignation of National Horseracing CEO Lyndon Barends in September, the post became vacant and was advertised. Vee Moodley was the succesful applicant.
A Phumelela Press Release informs that after studying at the University of Natal and working as Group Accountant for the PMC Group of Companies in KwaZulu-Natal, Vee opted for a career path change and joined the National Horseracing Authority as handicapper in 2003.
His thorough knowledge and understanding of horseracing stood him in good stead and in 2007 he was promoted to Racing Control Manager and Chief Executive Officer designate of the National Horseracing Authority.
Vee has a strong financial background and excellent knowledge of horseracing and betting and was appointed by Phumelela as Sports Betting Executive on 1 July 2010 and as Executive Director: Sports Betting on 1 October 2010. Vee was also appointed CEO of Betting World, a subsidiary of Phumelela, on 1 June 2015.
Rob Scott hails from a well-known racing family, with both his late brother and uncle respected trainers while his father, Tony, was a steward. Rob has been involved in horse ownership for 11 years.
Before his appointment as CEO of Tellytrack, Rob worked in various senior management positions for Edcon for more than two decades. He holds an MBA degree.
"The Board and management team would like to thank Vee for his valued service and contribution to the Company over the past eight years and wish him every success in his new role as CEO of the NHA," Phumelela said in a sens-announcement yesterday afternoon.
There was no news from the NHA to confirm Mr Moodley's appointment.
‹ Previous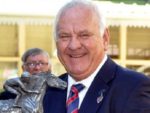 Mauritius Trainer Suspended For A Year