The National Horseracing Authority confirms that at an Inquiry held at its offices in Johannesburg on Wednesday, 5 December 2018, Owner Wayne Kobusch was charged with a contravention of Rule 39.1.1.

This arose in that as the Owner of the horses SABRINA, SILVER SUOJURE, SPINDRIFT SPENE and CLAIM THE ROSES, he allowed these horses to be vaccinated against African Horse Sickness by a person who was not a Veterinary Surgeon nor was the vaccine supplied by a Veterinary Surgeon.
Wayne Kobusch pleaded not guilty to the charge, but was found guilty of the charge.
After hearing evidence in mitigation, the penalty imposed by the Inquiry Board is a fine of R4 000.
‹ Previous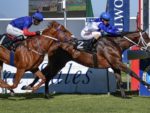 Guineas Double Feature Thriller