On 15 January 2019,  after the running of the 6th race at the Vaal Racecourse the Chief Stipendiary Steward, Mr Lyle Anderson, was approached by Trainer Mr Scott Kenny who queried the eligibility of the winner, SUGOI.
Mr Kenny pointed out that in terms of Local conditions pertaining to assessment races on the Highveld, he was of the opinion that SUGOI has not met its obligation of participating in two assessment plates before being allowed to run in a handicap on the Highveld and as such should not have been allowed to run in race 6 on 15 January 2019.



Mr Kenny was advised that the NHA Handicapping Panel included SUGOI in the race as the Handicappers were satisfied that SUGOI had already competed in two assessment races since winning its maiden.
The Handicappers used both the MR 72 Handicap that SUGOI competed  at Greyville Racecourse on 12 December 2018, as well as the assessment plate on 29 November 2018 and therefore deemed that SUGOI  has had its two obligatory runs in assessment races, being of the view that any race (excluding the Highveld) in which a horse is eligible to run, will be used as an assessment run.
Thus, SUGOI's run in a Kwazulu-Natal Handicap was deemed to have satisfied the assessment plate conditions.
Read more about the Phumelela initiative introduced in July 2018
The National Horseracing Authority's application is summarised as follows:
Should a winner of a maiden race within its first five starts compete in any race for which it is eligible in another province, that race will count as one of the said horse's mandatory assessment runs. 
Press release issued by NHA on 17 January 2019
‹ Previous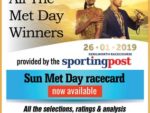 Met Day Betting Bonanza