The possibility of instituting compulsory pre-race comments for first-timers and rested horses lies with the racing operators.
This was the word from newly appointed National Horseracing Authority CEO Vee Moodley, who confirmed that he would suggest that the racing operators – as Gold Circle had done with the Barrier Trials – give consideration to implementing a local condition with regard to comments from trainers
"The NHA will be responsible for the overall policing of any local condition implemented,'' confirmed Mr Moodley on inquiry as to the status of the pre-race comments.
The Sporting Post has been publishing pre-race comments, kindly provided by Phumelela Publishing, for the past year and in most cases these appear to be valued by players as a punting tool that adds some transparency to calculations.
The introduction of Barrier Trials in KZN over a year ago has also proven a general success, with the further requirement announced in November 2018 that participants are subjected to testing for prohibited substances.

But some don't believe they serve a purpose.
In an interview late last year, Ashburton champion trainer Duncan Howells welcomed the introduction of testing for drugs for Barrier Trial participants, but was adamant it didn't change his general impression that the facility was a bit of a confusing waste of time in its present format.
"I feel that the trials have been introduced incorrectly and should have been structured properly to produce a clearer picture. If we want to assimilate race conditions, then the jockeys should also at the very least be obliged to ride their mounts out – even if only from the 400m marker. At the moment, the horse that jumps in front usually stays there with everything else behind him on a tight hold and watching him."
The national picture with regard to pre-raceday information on first-timers and rested horses is currently fragmented with no uniform process in place – and nothing more than a moral obligation on the trainer to express an opinion.
Some trainers refuse to comment while KZN trainers, beyond a few isolated cases, do not provide any comments in advance of raceday.

Players are expected to watch the Barrier Trials and draw their own conclusions. This is not a user friendly option for all customers.
We are informed that first-timers / rested horses are flagged on acceptance and the trainer then chooses a suitable comment when accepting via the National Racing Bureau.
This could not be confirmed by anybody in authority and is not being disseminated to publications.
So the ball is in the court of the operators. Hopefully progress can be made in the interests of the game. Can it really be that complicated?
‹ Previous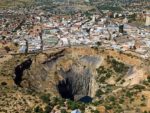 Another Flamingo Park Poser Today