Some decades ago, after a good thing had been run over in a big race, the then budding champion trainer Mike de Kock got some advice from a past master.
"Your owners need to understand that sacrifices have to be made some time. One horse doing things so that another may win. And in the long run, everyone gets a turn."
Easy to say, of course, for Terrance Millard, who housed a stable full of big race contenders belonging to understanding owners. Happy to play the waiting game, they liked nothing better than a proper punt when the time was right.
Millard knew with certainty that pace makes the race, and that without it even the best laid plans of mice and men could go awry.
You could say that again!
There has hardly been any one of the bigger races in the current season that was true run and throwing up results that can be relied on.
As preps for the Queen's Plate and the Met, the information they provide could at best relate to the well-being of horses, nothing more. Race ratings based on weight and age and beaten lengths can only be figments of fertile imaginations.
To refresh the memories, here's a short selection of big races, with their post-race summaries as published in the Sporting Post Digest:
Gr1 Summer Cup – 2000m
Winner Tilbury Fort raced 11th entering the home straight; shifted in away from the crop final 200m; ran on well to lead 50m out. Runner-up Dawn Assault raced 2nd; led 700m; pipped late; jockey Zechner fined R2500 for excessive use of the crop. Third Cascapedia lost one length at the start; raced midfield early; 5th entering the home straight; led very briefly 300m; kept on well.
Time: After a fair early pace when jostling for position in the Summer Cup, Fort Ember was visibly hard held at the front and the pace slowed from the first call, until developing into a sprint over the final 500m. Other than the very false paced (and slowly run) Racing Association Handicap over 3200m, the Summer Cup field recorded the slowest time in the segment from the first call to the 400m. The Cup clearly wasn't a true run affair. Rating conservatively, we gave the 4th 113 which makes the winner (prev 93/94/95/86/96) 98, the runner-up (prev 97/89/81/92/97) 98 and the third (prev 94/96/85/96/98) 102.
Gr2 Green Point Stakes – 1600m
Winner Legal Eagle (best handicapped) raced 2nd; led 250m; kept on strongly. Runner-up Undercover Agent set the pace; rallied gamely after being headed 250m out. Third Do It Again raced 3rd; challenged strongly.
Time: There was no initial pace in the Gr2 Green Point Stakes and even after Undercover Agent took up the running entering the bend, it remained a doddle – the 1600m Maiden Race run earlier was almost a second faster to the end of the bend! As a result this Gr2 event was decided in a sprint for home, making it false run and not a good predicter for future encounters of the same runners. Ratings are unlikely to be reliable. With much trepidation and little conviction we gave the runner-up (prev 104/103/104/102/113) 113 which makes the winner (prev 107/109/93/103 – has done 116) 113 and the third (prev 85/89/100/98/103) a seemingly unlikely 113. Fourth finisher Rainbow Bridge, who'd refused to settle with the slow pace and fought an energy-sapping battle with his rider, remarkably flew up late to within a head in fourth, for a 109 rating.
The 1400m Pinnacle Plate earlier on the day was slow-run early on, making the task for Snowdance (who led all the way) a lot easier in the sprint for home. This, too, wasn't a true run race and the filly's ease of victory must be seen in that light.
Gr2 Concorde Cup (3yo's) – 1600m
Winner One World (best handicapped) set the pace; battled on well when challenged. Runner-up Chimichuri Run (2nd best handicapped)  raced 4th; challenged strongly; held by winner below the distance. Third Twist Of Fate (3rd best handicapped) raced in fifth, less than a length behind the eventual runner-up; ran on, but no chance with first two.
Time: There was a good pace throughout and this comparatively was comfortably the fastest of the seven races around the turn. We gave the third (prev 84/93/70/92/97) 97 which makes the winner (prev 82/84/95/107) 101 and the runner-up (prev 89/94/98/102/94) 100. This might be conservative.
Gr1 Cape Guineas (3yo) – 1600m
Winner Soqrat raced 3rd; led 100m; won going away. Runner-up Twist Of Fate set the pace; outrun latter stages. Third One World (best handicapped) raced second; every chance.
Time: After getting to the front early Twist Of Fate slowed up the gallop on the bend, with jockey Fayd'Herbe continually looking around to check on his rivals. The race developed into a sprint in the straight, making for the fastest final segment time on the day. This was a false run race, and goes some way to explain the final result, with Twist Of Fate running way above his previous best to finish second, and the well fancied One World and Chimichiri Run missing the boat. Future encounters between these top 3yo's could well have different outcomes. We gave the runner-up (prev 93/70/92/97/97) 99 which makes the winner (prev 82/87/92/95/95) 101 and the third (prev 82/84/95/107/101) 98.
The 2019 Queen's Plate, it seems, will be different. It'll be a true run race, at a good pace. No bull.
No, Milton isn't here. But Rainbow Bridge's trainer Eric Sands has entered Amazing Strike, who in 43 career starts raced only 3 times over a mile, and seems to be regarded as best up to 1400m. Can there be any doubt that he's here to ensure a good early pace for his stable companion, rather than to entertain any hopes of winning?
Now here's the thing.
In a Weight-for-age race the horse with the highest truly established rating will win.
The only way to be beaten might be by unexposed improvers, whose true rating has not yet been established.
The horse with the highest true earned career-rating is Legal Eagle, who in ten career-starts over a mile is unbeaten over the distance, and goes for four Queen's Plates in a row.
The still unexposed runners in terms of ratings include Rainbow Bridge, who may have been unlucky when unsettled in the false run Green Point, losing his unbeaten record, and Mike de Kock's Buffalo Bill Cody and Soqrat – technically both 3yo's, who will have to make considerable improvement – which is, of course, not impossible.
For now, though, the Eagle still soars.
‹ Previous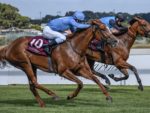 On A Clear Day…