Snaith Racing assembled some serious turf A-listers for a pre-Sun Met amble in the Muizenberg surf on Friday.
On parade was Met title holder and reigning Horse of the Year, Oh Susanna, who was joined by July and L'Ormarins Queen's Plate sensation, Do It Again.

Also on show were Majorca Stakes winner, Snowdance, Cape Flying Championship speedster, Sergeant Hardy, Gold Bracelet heroine, Miyabi Gold, Peninsula Handicap winner Doublemint and Woolavington Handicap winner, Strathdon.
They were accompanied by the promising young Bunker Hunt, Gimmetherain and Silvano's Pride.
Joining them on the beach were SABC Breakfast Show hostess, Leigh Anne Williams, current Miss South Africa, Tamaryn Green and a host of press, owners and public.
‹ Previous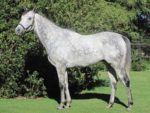 The Assayer Is Off The Mark