The Met has lost quite a lot of its fun and energy since it changed to the SunMet, but truth be told it has been on a downward spiral for a good few years.
Michael Jacobs of Southfield writes in the Sporting Post Mailbag that, in his opinion, the event has become over commercialised and exclusive, and the huge crowds of yesteryear are staying away.
I have attended the Met for decades and remember the glorious days of bringing your own umbrella, blanket and picnic snacks and sitting on the lawns in front of the grandstand. Thousands of people attended and the course was packed.
Saturday's was probably the worst Met I've attended in terms of small crowd, lack of atmosphere and a long, boring day.
There were very few food outlets, the bars had limited drinks on offer at exorbitant prices, and there was a soulless air about the racecourse.
The halcyon days when J & B sponsored the event are sadly over forever!
The highlight of the day was undoubtedly the arrival of Usain Bolt and the gutsy win of Rainbow Bridge in the main race.
Other than that the day was  quite forgettable. The Met used to be the "people's race", but it has quite clearly become  "the rich and the celebrities race". Both the Queen's Plate and now the SunMet have become elitist, exclusionary and exclusive, and people are staying away.
The organisers should have a rethink and return the Met to its former glory and the fun element lacking for ordinary people who used to attend the event in their thousands.
Let the racegoers bring their umbrellas and picnic snacks and let them have fun! The marquees and hospitality enclosures can exist quite comfortably alongside the general public enjoying themselves on the lawns!
The event is going to continue to decline in popularity if the ordinary people are sidelined at the Met.
‹ Previous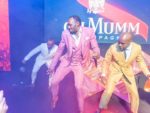 Met Day – Bolt And The Bubbly