Chris Swart won the 2018 L'Ormarins Queen's Plate Racing Festival Writers Award and undertook a once-in-a-lifetime dream trip for two to Glorious Goodwood in August last year.
On the eve of the prestigious mile at Kenilworth  this Saturday, he recalls his wonderful journey of discovery.
He reports back:
There is a juxtaposition between Glorious Goodwood and the L'Ormarins Queen's Plate.
They're both recherché jubilees in terms of the magnificence of horses and resplendence of racegoers in attendance.
If you've never been to Goodwood, one needs to conceptualise the L'Ormarin's Queen's Plate held over five days at Kenilworth with extraordinarily strong group races each day.
Welcome to the esteemed Glorious Goodwood Festival.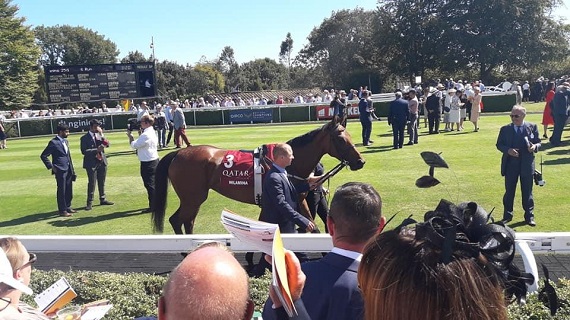 Goodwood was as bedazzling as the 1984 Queen's Plate in terms of the occasion passing by so transiently.
Two days seemed like minutes on retrospection but there are memories that will be captured forever.
I left Lusaka and waited for my companion Andrea Puggia in the British Airways departure area. The Panama hat indicated his presence and after eight years there was much excitement and a lot of catching up to do on the flight.
It was my first transcontinental flight since 1980, so things had changed significantly.
A blanket, pillow, headsets to view a wide range of movies and the dinner table that remarkably emerges from your arm rest were all things Andrea coached me with.
We both ended up watching Chappaquiddick (Andrea owns its namesake out of a mare bred by my late friend Wally Brits' mare Aces Wild that ran a close third in a PE marathon).
A few hours' sleep in an airbus is fairly untroublesome as it's a very quiet plane. I woke up over Paris and the exhilaration began to build as Heathrow got closer.
Heathrow had metamorphosed too. Trains, elevators and lifts. Follow the herd and ultimately you'll reach your destination.
My initial impediment was the lady at immigration that interrogated me about my trip.
When asked to corroborate the L'Ormarins writer's award on the Internet, I beamed inwardly as she was compelled to read the entire article about Wolf Power.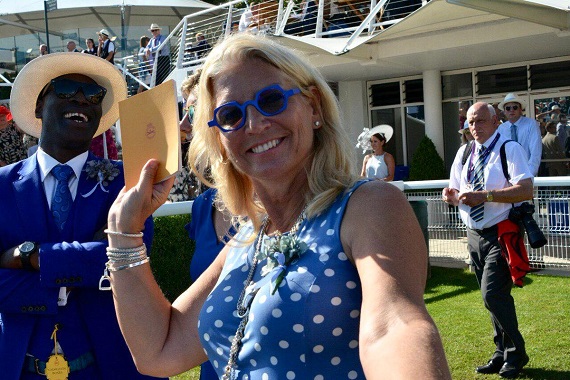 Another few minutes annotating why I was the only Zambian in my family was necessary before grabbing my case, reuniting with Andrea and finding our chauffeur for the drive to Chichester.
The English countryside is breathtaking. Colossal forests, verdant pasture (that belied their drought) and dense brush surrounded the highways that tapered down to narrow country roads leading us to the Goodwood Hotel.
Reception informed us that our room was only accessible after lunch and as we wanted to go racing, we were allowed to shower and dress in the golf change room after persuading the bar lady that it was OK to serve a Guinness and lager at 8.30am.
A bus took us to the course and having sat next to Andrea on our school bus many times going to rugby or cricket matches, the excitement and suspense was soaring as we approached the drop off point.
Our first miscalculation was not researching the course and final destination. As a consequence, we ended up walking 15km on my fitbit this day.
Jill and John Warner (Carry on Alice's owners) invited us to a picnic in car park 2 and we hadn't any intimation about the easiest route.
A tout approached us and we explained what we needed. Typically he picked up extreme naiveté in the pair of us and returned with two badges for the owners and trainers enclosure.
While we would be able to mingle amid the rich and famous, £300 seemed rather inordinate for this privilege. We declined his offer without haggling and headed off to the ticket sales offices.
We acquired two tickets for the Richmond enclosure but were informed that we wouldn't be able to walk across the course to the picnic area and would have to take what Jehan Malherbe terms "the scenic route"
I thought my fellow Zambians had little sense of distance. Many a time 16km has turned into 50km drives.
The Brits probably instilled this when they ruled our colony.
"Just round the corner" was comparable to the longest hike we'd ever trudged at school. We'd spent a day hiking up and across the Lady Slipper (the mountain in the background at Fairview that has a listed race named after it) at Woodridge College and this walk in 30 degree heat in jackets and ties severely tested our endurance like it had Stradivarius two days previously.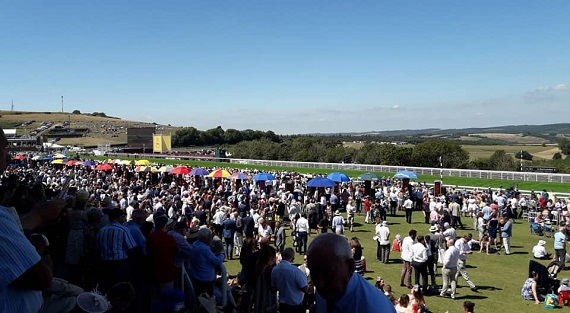 We got chided too.
A lady stopped us on the road and informed us we'd get run over if we carried on off the fenced pedestrian path we'd not taken note of.
I might have cursed the Good Samaritan that left us in her wake instead of offering us a lift but we weren't too far away and I began scanning the area for Jill.
We watched a heated dispute over picnic territory with merriment being refereed by a hapless parking attendant.
A message popped up saying "wait at the gin bar for Liesl King" and a few minutes later we were exchanging greetings and sat down for champagne, wonderful starters, lunch and a perfect cheesecake.
With wine after dessert, the ladies amateur race was being run and the roar of the crowd built as the thundering hooves began nearing us.
Jill explained the history of the course and the hill.
The hill is an area occupied by families and campers that traditionally were on summer holiday during mining breaks and although sparser than the days of old, it still had hundreds of people pitched there for the duration of the festival.
Jill told us we could in fact walk across the course to our enclosure and Andrea was keen to launch his assault on the ring of bookmakers.
How I longed for those days gone by. Each stall was priced up electronically and occupied by the likes of Paddy Power, Betfred and William Hill.
I stuck to what I knew and Betfair while Andrea strode off to strike his first bet. It would effectively be a de Sousa treble after he rode a 64/1 double for Andrea at the Epsom Derby meeting.
At the hotel, a large ginger Englishman that resembled an Eastenders character had told me to back Communique in the first, Pilaster in the 2nd race and Land Force in the third, so we both took a bet traditionally and electronically.
We cheered home our hero Silvestre de Sousa on Communique. It was a brilliant ride for a trainer I had the pleasure of meeting – Mark Johnston during our Saturday breakfast.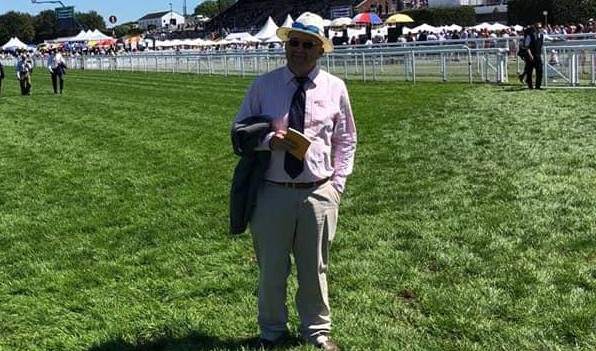 We were off to a brilliant start with 7/2 gratefully accepted and I decided it was time for a drink.
Pudge went off to collect his winnings while I found the bar under the grandstand and queued up to buy a traditional bucket of Pimms.
Andrea had bought two pints of lager with his proceeds, so we were well into party mode and the ladies surrounding us on their day were suddenly attracted to us or the £35 bucket that would knock us as hard as a Craig Kieswetter six.
Pilaster was one of my three big bets for the week. The other two were Stradivarius and Battaash. Stradivarius had battled his way to a million bonus ahead for his brave win on the first day and I chose to watch Pilaster go to post from the stands.
I can't emphasise how important this is to anyone that considers having a bet.
In South Africa courses are deserted but in the UK, being on course gives you significant advantages.
The first one is the wellbeing of runners in the ring and going to post.
On a sweltering hot day, runners that sweated up ran poorly and you could put a line straight through them seeing this.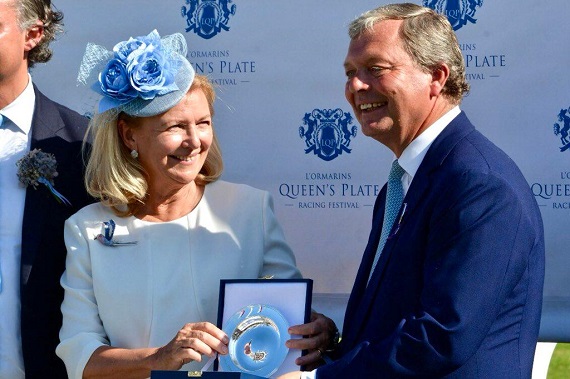 Pilaster emerged from the chute and I noted a good coat and not a great stride in the amazing race card that Qatar delivered to the hotel.
The other horse I fancied Precious Ramotswe played up badly and was sweating up, so that made my mind up.
Nothing else stood out for me despite not being happy with her action. I thought it being her first time on grass might be the reason.
The course was running extremely fast and the ground a worry, so I set an in running automatic cash out at £28 and we soon were cheering Pilaster home.
We were standing about 150m away from the line where she was headed and I glanced at my phone and noted I'd been successful in cashing out.
Pilaster fought back gamely to Andrea's delight and got back in front. He was swiftly off to his now very unhappy bookie to claim his bounty only to be told there was a steward's enquiry and we had to wait near thirty minutes for the outcome in which was Pilaster successful.
The Roger Varian trained filly will win a lot more races over ground when it's softer.
I was particularly keen to look at our tipped horse Land Force.
The O'Brien yard have not had the best of years and a respiratory virus doing the circuit in the yard were made known.
Normally you'd plunge for the weight of money for their horses but this season it is folly.
There was a big gamble for Land Force on the go and I waited for him to canter past under Ryan Moore.
He looked exceptionally well and strode out beautifully but I was very hesitant given the yard strike rate, so didn't have a bet pre-race.
This is the second reason why you'll find many racegoers at English tracks.
In running betting advantage.
The time it takes for the signal to TV viewers gives the on course punters a massive edge.
When Ryan Moore went past us a few lengths clear galloping strongly I pressed 15/10 and seconds later was up £75 which I found astonishing at the time but considering the delay in the time thereafter, being on course with a spotter and good binoculars is the way to go.
The win led to Rhododendron shortening for the Gr2 Nassau Stakes and we opted to support the South African contingent.
Urban Fox racing for the Kieswetter's had beaten a strong field in Ireland so we went under the stand to the parade ring to have a closer look.
Rhododendron a full sister to Bush Hill Stud's Flying the Flag was starting to warm up and I instantly put a line through her.
I hailed a bewildered Craig Kieswetter in the parade ring and Brian Finch recognised the face while Liesl took one of the photos I'll always treasure.
Urban Fox looked very well and my only concern was Godolphin.
We were 3 -0 up in our battle against the books, so we played with our hearts and soldiered on with a bet on Urban Fox.
On the way there and back, the British obsession with strawberries and cream was astounding. The queue was miles long. We chose not to indulge in tradition and went to watch the canter past.
Rhododendron did not look well at all.
The boys in blue taught us a lesson that is etched in my rules.
Never ignore a Godolphin runner. I ignored Wild Illusion and she made my account a little lighter.
Urban Fox ran a great second and we were rather disappointed for the Kieswetter family. It was the feeling you get when your side loses a rugby test.
The Pimms jug was near empty and two pints of lager replenished our reserves in the stifling heat.
A good friend had given me his English sim card to use and Kevin Riddiford would make the day a memorable one for me.
He owned a pub in Lusaka called Chit Chat and I normally have £5 each way on for him when Chit Chat runs for Sharon Kotzen at Fairview. Despite him being on the harder end of bargain, I told him a few weeks back that a horse called Lord Riddiford had won well and that he should look out for it.
Lord Riddiford was in the last race of the day and cantered home.
We left the course with good winnings and went off to dinner with another classmate from Woodridge that we hadn't seen since 1984.
The evening ended with a drink at the hotel bar and we ended up chatting to German connections of a horse carded to run the next day. Andrasch Starke was part of the European team at the Ascot Jockeys International. He thought he could ride two winners on the Ascot card and said his ride at Goodwood had a fair place chance despite meeting her recent conqueror. At 25/1 a place, we had a small bet and it was off to bed.
The big day had finally arrived and I decided I needed a suit to grace the occasion. Light blue and white it would be.
I Googled Moss Brothers as the best in Chichester, hailed a taxi and we were off.
The driver couldn't find the shop but advised us to use the place he dropped us off at. With 150 years of history and a 30% off sale, I swiftly selected the exact suit I needed, haggled the price and were soon back at the hotel, readying ourselves for the first leg to a champagne reception and tour of Goodwood House.
Liesl King experienced in the way things are done urged us to take the tour of the Castle belonging to the Duke of Richmond and it was well worth while. Brian Finch urged us to take our regularly refilled champagne flutes along and see what an important part of history is. The array of art, tapestry and ceramics collected over hundreds of years was amazing.
Despite flood damage, the tapestry room where many influential meetings had been held, was restored and one can only marvel at the brilliance and extravagance on display.
Craig Kieswetter had been to the ball the night before there and looked the part of a Prince that missed the pumpkin ride.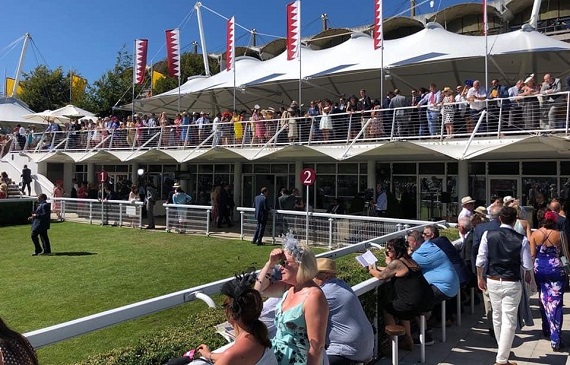 Sans glass slipper he was partaking in the bountiful supply of L'Ormirans sparkling wine.
We chatted about Highlands, cricket, golf and racing and he was happy with the run of Urban Fox. Beaten by a good Godolphin filly is no disgrace and she's got bigger races in her.
A Qatar Range Rover was our ride in near military precision convoy to the course. We'd received our enclosure tickets, lilac flowers for our lapels and entry to the Charlton Boxes was a lot easier than the previous day.
More champagne, a tote in the room and Betfair meant we weren't going to be scurrying back and forth and relaxed at our table.
Mrs Rupert is an exceptional host. The tables each had gifts that saw me swap my Panama for the lighter blue banded one and Cartier cologne drew a comment from Andrea saying it could only improve my strike rate from the day before where I had used Fahrenheit.
I chatted to a member of the syndicate that owns the talented horse The Slade at our table about racing and how much cheaper it is to own and race horses in South Africa as opposed to the UK.
A lady sat alongside me and when Andrea ribbed me about my cologne he was sternly told she was getting married in two weeks' time.
The starters, main course and dessert were outstanding.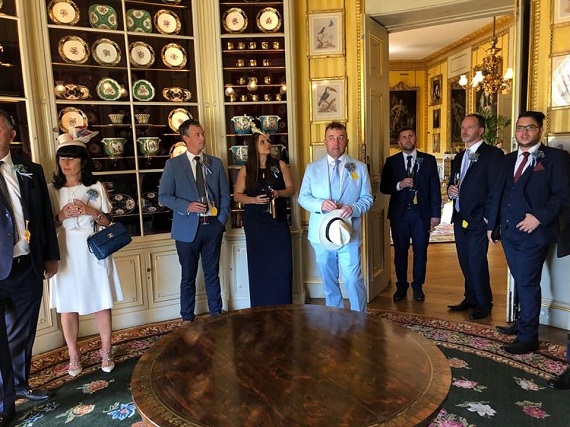 I went to thank Mrs Rupert and introduce Andrea and we were introduced to who I consider the world's finest bloodstock agent in Angus Gold.
We had a brief chat and he said Battaash would take a power of beating if he behaved himself before the race.
We watched from the balcony and the horses came out the chute for the canter past.
Battaash emerged last and he looked an oil painting.
He was dappled, dry and much focused between two grooms.
Here was the eye of an Eagle that I'd described with my article about Wolf Power.
Bright eyed, focused and on his toes, he stretched out and disappeared down the straight.
I emptied my profit for the week onto him at just over 9/10.
We watched the start of the race and at the 400m mark, it was highly apparent he was going to win easily.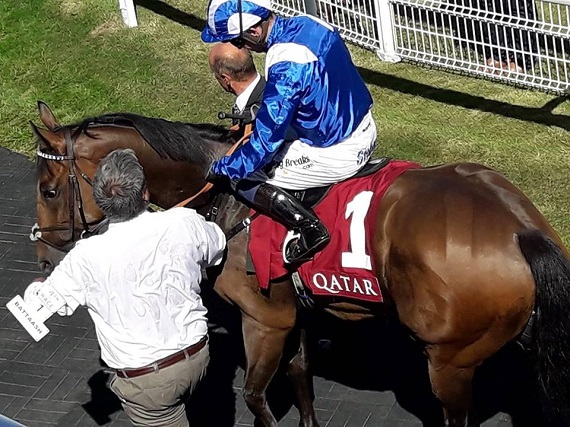 The commentary still rings in my ears "And Battaash is giving them a right hiding here"
He blazed down the straight many lengths clear of a good field that simply weren't in his league.
This was the moment I dreamt about like Wolf Power winning the Queen's Plate some 34 and a half years before this.
Racing isn't always about the bet, it's the experience and being able to say you were there on the day a champion won.
I will be there this Saturday for my first Queen's Plate in 35 years and it is the best field I have ever seen. This should be a bucket list event for anyone with an ounce of racing in their blood.
Kenilworth and L'Ormarin's you beauty
‹ Previous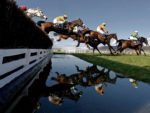 Cheltenham's New Year's Day