SA Champion jockey Lyle Hewitson rode the final stakes winner of his illustrious apprenticeship at Kenilworth on L'Ormarins Queen's Plate day and will enjoy his first rides as a fully fledged professional jockey at Turffontein on Saturday.
The 21 year old Avontuur-sponsored rider is chasing the 500 career winner mark and he was particularly pleased to have pulled a feature out of the hat as the shadows lengthened over the final hours of the two day festival on Saturday.
Lyle rode a perfectly judged race on the Brett Crawford trained Gimme One Night – he had been aboard when the son of Gimmethegreenlight had won the Cape Summer Stayers last time – to win the Gr3 Chairman's Cup.
We asked why the elated salute and obvious thrill shown as his mount hit the line?
"I had endured a mixed bag of success from some nice rides over the two days with a  few places here and there. And I was naturally keen to ride a winner at such a prestigious racing occasion. I always thought that Gimme One Night would bail me out. And he did! He just turns it on so nicely and it was a superb feeling to slice through them late and win it like we did."
Of the highlights of the past two years, Lyle conceded that it had to be the three Gr1 winners he had ridden in his apprenticeship.
"When I started out, I thought maybe a Gr3 or Gr2. Then I thought maybe a Gr1 as my confidence grew. Then suddenly I got the two in quick succession late last season. Then Tilbury Fort won the Summer Cup. That was amazing," he said modestly.
We asked how he had celebrated that big day on 1 December.
"I went up to the private suites afterwards. I had one glass of wine and started yawning! So I went home to bed. But I was riding the next day, to be fair," he laughed.
He is in fourth position with 71 winners on the national log. Can he win the championship again this season?
"Look it's not easy. Anton Marcus is riding better than he ever has – and that's top drawer! Muzi Yeni is working hard and boots them home regularly. Gavin Lerena has found top form after a quiet start. It won't be easy, but I am always working, travelling and trying my hardest."
Interestingly, Lyle served a ten day suspension in December, yet rode 25 winners in the 20 days he was able to ride!
He confirmed that Deez Dynanand would be doing his non Gauteng and Eastern Cape rides from mid January.
Any plans to ride overseas?
"There are no firm offers at this stage. I am young – I have time on my side for now. I have plenty to learn still, so am in no real hurry either."
What does he attribute his success to?
"A good grounding and family support are the cornerstones. Then we can't do it without the owners and trainers who give us the good horses to ride. I have many people to thank, including Mr Sean Tarry, Yvette Bremner, the riding masters, friends, family colleagues, my top sponsors Avontuur. I don't know if I should be naming individuals! But I am so thankful for all the opportunities."
Will he be doing anything different going forward?
"No. Just that star next to my name in the racecard will disappear on Saturday. Oh, and obviously I don't live at the academy any more!" he laughed.
‹ Previous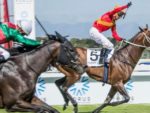 Sun Met – 22 Remain In Contention