In a sequel to 100-1 shot Rabiya The Rebel's runaway win in the seventh race at Turffontein on Thursday evening, it is pleasing to note that the Stipes are keeping their eye on the ball.

Our often maligned National Horseracing Authority come in for plenty of flak but when credit's due, it's due.
We saw on Saturday that the experienced Turffontein Judge was pulled up by the Stipes who picked up an error in a placing decision made by him.
And now the days of simply accepting a trainer's comments about an apparently improved performance and issuing their standard warning about in-and-out running may have come to an end.
Take the case of Rabia The Rebel who arrived on Thursday evening paying R83.80 for a win and R20.80 a place.
An addendum to Saturday's Turffontein Stipes Report notes the following:
RABIA THE REBEL (C Storey), the winner (Turffontein 7th on 17 January 2019), was selected for the taking of specimens for analysis.  Trainer B Webber advised. (MduP).
When questioned regarding the improved performance of Rabia The Rebel, trainer B Webber explained to the Board that this filly had dropped significantly in class after running in a high merit rated handicap and two assessment plates.



The NHA's Handicapping Panel have confirmed trainer Webber's comments in relation to the improved performance of Rabia The Rebel, as she had run way above her ratings in her last three runs.
Rabia The Rebel finished 7,50 lengths back in an MR 84 Handicap at Turffontein on 17 November last year – then ran in two Assessment Plates – finishing 8,40 lengths behind Cashel at the Vaal and then 11,90 lengths to Gottalottaluv over 2000m at Turffontein on 29 December.
At 100-1, she may have slipped in under the radar on Thursday  – in hindsight. But it's good to see more rationale and detail in the reports explaining the performance.
Can there ever be enough transparency and information?
‹ Previous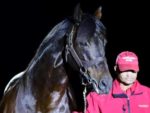 Australian Winners For Cliffs