On 9 July 2018 the NHA issued a Press Release relating to the theft of sealed post-race specimen boxes containing specimens which were collected at the Vodacom Durban July 2018 race day at Greyville Racecourse.
These boxes were taken from the courier company at gunpoint by unknown assailants.  Some of these specimen boxes were later noticed by a member of the public where these were abandoned in a nature reserve in Durban.
The police subsequently took three of the boxes into evidence. The boxes that were found had all of the 20 specimens intact. Some were Original specimens and some were Reference specimens.
Original specimens are routinely analysed at the NHA Laboratory. The corresponding, identical Reference specimens are normally kept intact as a mechanism for independent analysis at an alternative racing laboratory. These boxes were subsequently released by the police to the NHA and they were then forwarded to the NHA Laboratory.
Whilst all the boxes were physically forced open, all of the contained specimens were still intact. All of the bottles and the bottle seals were also intact.  This was a significant observation as it showed that none of the specimens were tampered with at any stage.   It was therefore still possible to analyse these intact specimens.
Although these urine specimens were not ideally stored whilst the police investigation was ongoing, the NHA Laboratory however still followed normal practice and screened the specimens for the presence of any prohibited substances. The deterioration of these specimens was not ideal as they were compromised by the abovementioned incident.  However, employing the highly sensitive screening instrumentation of the NHA Laboratory, no prohibited substances were in fact detected in these specimens.
Further preventative measures have been instituted with immediate effect in order to ensure that similar incidences do not occur in the future.
This matter has now been finalised and the file has been closed.
Press Release issued by NHA on 10 January 2019
‹ Previous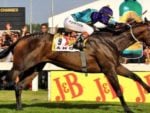 Striker Takes Met Ride