A well related colt by Redoute's Choice has topped a record breaking Day One of the 2019 Magic Millions Gold Coast Yearling Sale.
One of four yearlings to sell for $1 million or more, the colt sold for $1.6 million and helped return a record day's gross of over $50 million – up almost 30% on last year's record opening session.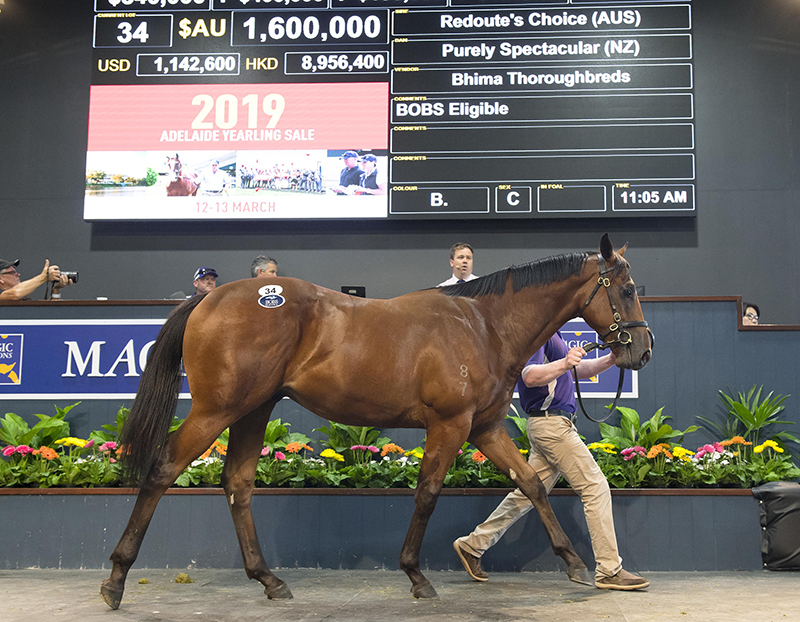 Catalogued as Lot 34, the day's highest priced seller was the Redoute's Choice-Purely Spectacular colt (above in photo) offered by Bhima Thoroughbreds and was purchased by Aquis Farm and Phoenix Thoroughbreds.
"We loved the horse," Aquis Farm CEO Shane McGrath said. "We bought the horses in partnership with Phoenix (Thoroughbreds)."
"He's by Redoute's and he's the sire of sires here in Australia and he's a brother to a proper Group One winner (in Stratum Star)."
"We loved him. He vetted out clean and he's going to be an exciting horse for our partnership."
"We'll take him back to Aquis at Canungra and then sit down and work out who's going to train him," McGrath added.
Later in the day a full brother to last year's overall sale topper, the I Am Invincible colt from Tai Tai Tess, was sold to the men behind world champion mare Winx, trainer Chris Waller and bloodstock agent Guy Mulcaster.
The colt who sold for $1.3 million was presented at the auction by the Mitchell family's Yarraman Park Stud.
"We really loved the colt last year but he was a bit too far from our budget," Mulcaster said. "We are very happy to get this one."
"We waited for him so we're very happy."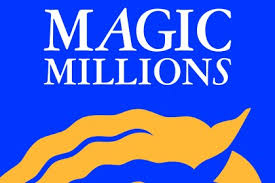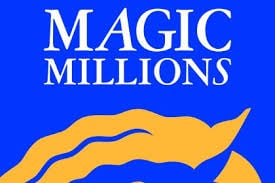 "He's very similar to his brother and we hear he's got a lot of ability and we hope this bloke does as well," Mulcaster added.
The first lot to sell for a seven figure price came earlier in the day when leading international bloodstock agent Marie Yoshida of Asian Bloodstock Services went to $1 million to secure Peggy Jean's Medaglia d'Oro colt from Widden Stud.
"He just has so much presence," Yoshida said. "He's an excellent mover."
"Medaglia d'Oro is a proven sire. We believe a lot in a young sire like Vancouver, so we think we should definitely follow Medaglia d'Oro."
"This colt was just splendid," Yoshida added as she revealed leading Sydney trainers Peter and Paul Snowden would be entrusted with the new purchase.
The top priced filly of the day was the I Am Invincible-Rose of Choice youngster who was offered by Yarraman Park Stud and purchased by Yulong Investments for $1 million.
Bred by Western Australian businessman Keith Biggs, the filly is the second foal of a Jungle Dawn Classic winning daughter of Choisir.
"I thought she was a standout and Mr Zhang loves her," Yulong's Sam Fairgray said. "It was probably more than what we thought but to get a quality filly like her you have got to pay."
"You are better off buying the ones you like than the second best."
"She looks very precocious so hopefully this time next year she is back up here," Fairgray added.
The China Horse Club and Newgate Bloodstock partnership is the current leading buyer after Day One with $3.46 million spent on eight lots, while Redoute's Choice is leading sire by average for three or more lots sold at $690,000.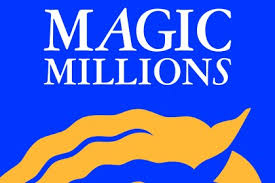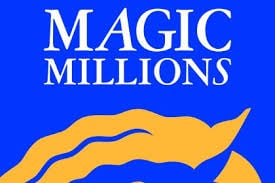 During the day some $50.715 million was traded on 200 lots sold at an average price of $253,575 and clearance of 84 per cent. All figures are well up on the corresponding opener twelve months ago.
"We're thrilled with the results," Magic Millions Managing Director Barry Bowditch said. "It's a record breaking day for the sale."
"The clearance rate finished up strong at the end of the day after being a little sticky early."
"With a gross of over $50 million and an average price to rise to over $253,000 – it's a great start to the sale," Bowditch added.
Day Two of the 2019 Gold Coast Yearling Sale will commence at 10am (Qld time) on Thursday.
To see a full list of results, the catalogue for the entire auction and to make an offer on a passed in lot click here.
DAY ONE STATISTICS
(2018 in brackets)
Lots Catalogued: 265 (252)
Lots Sold: 200 (182)
Lots Passed In: 39 (43)
Lots Withdrawn: 26 (26)
Sale Gross: $50,715,000 ($39,170,000)
Top Price: $1,600,000 ($1,000,000)
Average Price: $253,575 ($215,220)
Median Price: $170,000 ($170,000)
Sold %: 84 (81)
DAY ONE TOP SELLERS
$1,600,000 – Redoute's Choice-Purely Spectacular colt (Lot 34)
Vendor: Bhima T'breds (As Agent) / Buyer: Phoenix T'breds/Aquis Farm (QLD)
$1,300,000 – I Am Invincible-Tai Tai Tess colt (Lot 204)
Yarraman Park Stud (As Agent) / Waller Racing/Mulcaster Bloodstock (NSW)
$1,000,000 – Medaglia d'Oro-Peggy Jean colt (Lot 10)
Widden Stud (As Agent) / Asian Bloodstock Services (HK)
$1,000,000 – I Am Invincible-Rose of Choice filly (Lot 72)
Yarraman Park Stud (As Agent) / Yulong Investments Australia (Vic)
$900,000 – Zoustar-Shakeira colt (Lot 117)
Widden Stud (As Agent) / Spendthrift Australia (Vic)
LEADING BUYERS
(ranked by total spend)
$3,460,000 – China Horse Club/Newgate Bloodstock – 8 lots
$2,260,000 – Waller Racing/Mulcaster Bloodstock – 6 lots
$1,600,000 – Phoenix Thoroughbreds/Aquis Farm – 1 lot
$1,580,000 – Jon Kelly/Reg Inglis/Jamie McCalmont – 3 lots
$1,250,000 – Aquis Farm – 3 lots
LEADING SIRES
(by average – 3 or more sold)
$690,000 – Redoute's Choice – 3 sold
$421,053 – I Am Invincible – 19 sold
$396,667 – Snitzel – 15 sold
$372,500 – Zoustar – 10 sold
$366,875 – Sebring – 8 sold
‹ Previous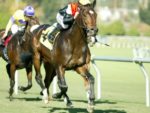 Looking For Some Global Appeal?