On Sun Met day at Kenilworth, Saturday 26 January,  jockeys D Dillon and A Domeyer, were unable to take up all of their scheduled rides at Kenilworth for medical reasons.
In a press release published on Tuesday 29 January 2019, Phumelela Gaming & Leisure advise that Dillon was injured during Race 3, and Domeyer was found to be dehydrated before Race 10.
As per established racing practice replacement jockeys took their respective places for Races 5, 7, and 8 (Dillon) and 10 (Domeyer).
Such occurrences and practices are commonplace in the racing world, with several jockey changes per race card not unusual.
In this instance, due to an administrative oversight, some of the changes were unfortunately not communicated to our racing partners. Following an internal inquiry the standard operating procedures for jockey changes have been revised to ensure that such an administrative and communication error will not recur.
Phumelela Group CEO, John Stuart said: "We would like to thank our partners, whose fees, commissions and royalty payments help fund the sport of Horseracing in South Africa, for their understanding and, in the interest of maintaining relationships that are based on mutual trust and commitment, wish to reassure all of our stakeholders that such an occurrence will not happen again."
This is how the issue was reported by the South China Morning Post on Monday
‹ Previous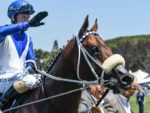 Racing Regulator's Met Day Success