The National Horseracing Authority of South Africa has provided us with the official photo-finish of the sixth race run at Turffontein last Saturday after requests from our readers.
We reported over the weekend that in an unusual deviation from normal process, the Turffontein Judge's 'final' decision was overturned by the Stipendiary Stewards after the running of the sixth race on Saturday.
We thank the NHA for providing us with the photo.
‹ Previous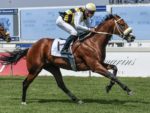 Fate And The R5 Million!