The pursuit of breeding great racehorses is mostly just that. And, unlike the mastery of a particular skill, getting it right once doesn't mean one can predictably do it again, writes Oscar Foulkes.
The best we can do is to follow a strategy that aims to improve our strike rate, remaining in search of what amounts to the Holy Grail. It's a journey without a destination. We are forever locked in pursuit mode.
It's also an exercise in risk management, much along the lines of a fund manager with a portfolio of investments. The high conviction versus diversified 'value' stocks as described in this interview (https://www.moneyweb.co.za/investing/from-sas-worst-performing-manager-to-a-top-performer/) with my cycling partner, Piet Viljoen, is equally true of the way one might run a stud's breeding programme.
Some Statistics
We know that Champion Sires will produce stakes-winners three times more often than average stallions. As long as we can get access to them we're guaranteed of some kind of minimum performance.
But what of the mares? Considering the general inadequacy of the way we use data relating to mares' breeding records, not to mention the tiny sample sizes, one ends up proceeding on the basis of observation and personal experience. However, given the small sample size (i.e. the number of foals that mares produce), they have many more years' grace than stallions.
While the risk needs to be managed, breeding remains a creative process. Every breeder plays a part in a Thoroughbred history that is now in its fourth century. This isn't just about being cautious.
Speaking from Experience
In the case of Normandy Stud, it's a project that is approaching its 50th year. Few South African studs have that kind of history, and fewer still can claim to rely on families that have been in their studs almost from the beginning.
While our families might not look posh in a Tattersalls or Keeneland catalogue, we've got to know them pretty well. There's always a risk when buying another breeder's cast-offs, even if they come from blue-blooded families. However, when we retire a filly to stud we have a fairly good idea of what to expect.
Foundation Families
I was just old enough in the early 70s to be aware of some of what was going on with the horses on the farm. I find it very interesting to look back through the stud's history, with the main female lines as route markers. Some families are no longer in the stud, and in this respect I cannot think of a better example than Envious, whose first four foals were all graded stakes-winners.
In the main, if families consistently bred winners (even if not graded stakes-winners), and threw a good sort of individual, they were retained. It's a selection process that may not have been as prosaic as Tesio's reference to the winning post of the Epsom Derby, but it's stood my family in good stead.
Amongst the early mares on the farm were three that were purchased from Alex Robertson, as part of a strategy of securing other breeders' top families. Over the years, mares have been procured from a variety of sources, but as a group, these have have the most enduring influence on the stud.
The first of these, Naphtha (by Abadan), produced three stakes-winners, but sadly no daughters. Interestingly, two of them were by Abadan's close relative Preamble, replicating a pattern that is very much in favour these days.
The second Abadan mare, Tramore (4th in the SA Oaks), produced the SA Derby winner Tribesman, and fortuitously, a filly by Drum Beat, called Terpsichore.
I remember Tramore being a chestnut mare with a big blaze. She was something of a loner, always in her own corner of the paddock, a trait that was copied by Terpsichore.
Terpsichore bred six winners, including the minor stakes-winner French Muse, and the stakes-placed Russian Minstrel. We ended up with three of her daughters in the stud: French Muse (by Melun), Russian Muse (by Russsian Fox) and Divine Music (by Divine King). The family kept producing a good flow of above average winners, but nothing remarkable.
That all changed in 2000, when Winter Solstice was born, a good 30 years after the purchase of Tramore. Mother Russia, Bravura, Depardieu and Cap Alright followed in quick succession, with Nother Russia being a recent Grade I winner. It remains the only family to have produced two Queen's Plate winners.
Of the 38 mares we mated in 2018, 13 descend from Terpsichore. If any of them have Tramore's 'loner' tendencies it would be much harder to play out!
The final mare to be purchased from Alex Robertson was the unraced Entre Nous, who was by the failed stallion Rouletabille, out of an Abadan daughter of the great mare Sun Lass. Entre Nous was a terrible looking mare, with her flat back and weak hind quarters being the feature I remember the most. There may have been other issues as well. Despite this, she must have been fairly pricey, because my parents got Laurie and Jean Jaffee to partner with them on the purchase.
Her first foal, by our resident stallion Contraband, was the filly In Camera, which they raced in partnership, winning the Fillies Guineas.
Entre Nous had a lot of bad luck, and was eventually sold.
When In Camera retired to stud it was initially for the partnership, but after a few foals my parents sold their half to the Jaffees, and Isadora Duncan was bred by them. This branch produced Consensual, Just Sensual and a bunch of good horses. One of our favourite colts at the recent CPYS is out of a mare from this branch, that we bought a few years ago as a way of getting back into the family.
In Camera's first filly was a Del Sarto, called Private Lives, who was unraced because of an injury that she picked up after being sold as a yearling. My mother bought her back after she'd been at stud for a few years, put her to the resident stallion Hard Up, and bred the champion filly Tatler.
We have had several daughters of Private Lives, but to date no major success has flowed. Tatler was exported to the US. Several years later Andreas Jacobs bought her, and got two fillies before Tatler died. Both of the daughters were brought to South Africa. One of them, Taomina, had a Silvano filly on the CPYS sale in 2014, which my late brother was determined to buy because of the family connections. I raced this filly, named Tahini, in partnership with his widow, and she did very well for us, nearly winning the Grade II Ipi Tombe, and running third in the Grade I Empress Club. She's in foal to Ideal World, so we're hoping we can breed something good out of her.
In the interim, my mother bought Taomina (dam of Tahini) on a broodmare sale, and after several years of trying, managed to get a Twice Over filly. Don't expect to find her in a yearling sale catalogue!
Stallions
The record of any successful stud can be plotted against the Champion Sires they stand. It's the high conviction model, similar to a fund manager taking a big position in just a few stocks. It's great when the stallions are good, but disastrous when they fail.
As far as stallions are concerned, the Normandy Stud strategy is to use data to find the best value stallion services to buy, in as large quantities as we can get them.
The rest is up to the families we have cultivated since 1970, and the soundness imparted by growing up rough in Robertson.
The search continues…
‹ Previous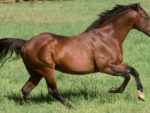 Nafaayes – No Enigma!