Three-time South African Champion jockey Anthony Delpech who retired from the saddle just over a  week ago, celebrated his 50th birthday on Sunday. .
He told David Thiselton of www.goldcitrcle.co.za  that the feeling of loss he felt when finally forced to retire from the saddle last week was difficult to explain, although he was able to look back on a glittering career.
"Something that was a part of you is gone, you feel robbed. I was used to getting up in the morning to go to work and now I don't know what to do with myself, but if you try and explain your feelings to people they just don't understand."
Even as he spoke he was in pain and something as routine as putting on shoes is now avoided if possible.
There is a burning sensation in his leg, hands and arms, with the leg being particularly noticeable.
"It feels as if somebody has rubbed deep heat on my leg down to my feet."
Delpech started workriding again a couple of weeks ago and hoped this would help his path to recovery.He rode a couple of horses the first day back and the burning in his leg got worse.
In a subsequent session he upped the number he rode by one or two and the burning got so bad he could hardly bear to have his riding breeches on.
His doctor advised him later that day to never ride a horse again as it was putting more pressure on the spine.
Delpech said, "I went in that day not realising it was going to be the end so it was really hard."
However, he had to put his family responsibilities first and heeded the advice.
Doctors told him after his shocking fall in the SA Classic in April last year he would likely never ride again. However, his own doctor had seen how badly he wanted to get back in the saddle and had given him every opportunity to do so. Delpech tried everything from oxygen therapy to physiotherapy to chiropractic treatment and other methods in his bid to recover.
He said one of the hardest parts in accepting his fate was that despite being 50 years of age he felt he had been riding better than ever at the time of the fall. He said he owed this partly to Mary Slack, who had retained him for two years.
He said, "It was two of the best years of my career, I felt rejuvenated, it was like having a new job and I couldn't wait to get to work to see which new horses of Mary's there were. She has been behind me throughout this ordeal and has contacted me at least once a week."
We hope it's a good day and wishing you many more from all of us at the SP,
‹ Previous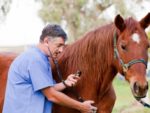 UK Equine Flu Spreads