Eric Sands is aiming to programme Rainbow Bridge to become the first horse to win the Met and the Vodacom Durban July in the same season since Pocket Power 11 years ago.
The Milnerton trainer told Michael Clower: "At this stage we are planning towards Natal, ending up with the July, and then bringing him back to Cape Town. The provisional programme is the Drill Hall, the Rising Sun Gold Challenge and then the July but it will depend on the timing of these races proving suitable for the horse."
The Ideal World four-year-old is enjoying a well-deserved break at Julia Pilbeam's Soetendal Estate near Wellington. "He does a light trot in the morning and comes in at night," said his trainer. "He spends the rest of his day in a field with a 32-year-old pony for company."
Rainbow Bridge is currently at 5-1 in the Hollywood Vodacom Durban July ante-post market.
See the Hollywood betting here
‹ Previous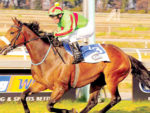 On The Vaal Classic Track Today