Today  will mark the end of an era as 13-time Hong Kong champion jockey, Douglas Whyte, takes his last book of rides before embarking on his career as a trainer.  Fasttrack's Hans Ebert pays tribute.
There is only one reason that a few of us are going to have an early Saturday night and make the effort to schlep to the races at Sha Tin on a Sunday afternoon: It's to say Goodbye to Douglas Whyte on his last day in the saddle as a jockey.
It's a small but not insignificant gesture of respect to the best and most successful jockey Hong Kong will ever see and who's closing this chapter of his career with his head held high before returning next season as a trainer.
There's been enough written here over the years about Douglas Whyte that there's really nothing new to add. All the words have been said: professional, astute, diplomatic, champion, focussed, determined, game changer, ambassador, horseman etc etc.
So, this Sunday, instead of lunch outdoors at Spices in Repulse Bay, it will be an afternoon at Haymarket, personally speaking, the best, but most unknown venue at Sha Tin. Even jockeys and trainers and owners have never heard of it. Pity. It's a bit like, What if they gave a war and no one came.
Away from Douglas Whyte for a sec, Sha Tin needs a complete makeover if it's ever going to attract those who might follow the races- but don't feel there's anything for them on-course. That making the trek to Sha Tin is for racing's uncles and aunties. There might be some style wandering around, but not nearly enough.
This Sunday, however, is a journey through the past and a Thank You to Douglas Whyte for all the memories. For all those brilliant rides that should be part of a Greatest Hits, packaged and narrated by an unknown who arrived here from Durban in South Africa via Singapore and who ended up winning thirteen consecutive Hong Kong Jockey Championships. And while there tomorrow, soon, we'll be back again to welcome Douglas Whyte, trainer.
Looking at the race card, and if a script writer, Douglas Whyte has rides in races two and three before returning for rides in races six, seven, eight, nine and ten.
Again, if a script writer- and a movie on Douglas Whyte has to be on the cards- he will win on Dances With Dragon in the third race, there'll be a presentation and photo opps before returning to possibly win races nine and ten on two first starters for John Moore.
He'll bring the curtain down on his riding career with a lap of honour aboard Uncle Steve. Uncle Steve is a horse.
If he doesn't win a race tomorrow? So what? He's a winner many times over.
Those Yuen Long farmers will probably start up that familiar chorus of the Diiiiiuuuu Song, Douglas will smile to himself as it's a tune with which he's familiar, and when time comes for that last ride with his family on course, maybe he'll shed a little tear. We will. That's for sure.
It's been quite a ride, bud. Thanks.
Reproduced by kind permission of Hans Ebert and Fasstrack.
‹ Previous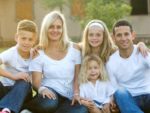 Happy 50th For Sunday, Anthony