South Africa's leading bookmakers Hollywood have opened their ante-post market on next month's showpiece Cheltenham Festival.

The four-day Cheltenham Festival, the fourth most attended sporting event in the United Kingdom which attracts over 320,000 visitors, is due to start on March 12. There are hopes all round that the equine flu outbreak will be under control well before that time.
"We are in contact with the British Horseracing Authority (BHA) , who are handling the logistics of the equine flu on behalf of British Racing and providing regular updates," a spokesman for the Cheltenham racecourse told abc.net.au.
"The festival isn't for five weeks and we hope that the BHA's early actions will resolve this matter quickly."
The British racing industry is worth 3.45 billion pounds sterling ($6.28 billion) a year and horse racing is the second most attended sport in the country with about 5.7 million people going to meetings each year.
Cheltenham is also worth about 100 million pounds to the local Gloucestershire economy.
‹ Previous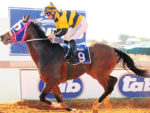 Flamingo Park Abandoned