The 1200m Diadem Stakes was the longest standing WFA sprint in South Africa.  As every race tells a story, we consulted SA Racing's 'History man', Charles Faull, to learn more about the history and significance of this great race.
The Diadem is on a par status-wise with the LQP mile," Charles states firmly.  At least it was, until it was compromised to a conditions event in 2015."
History
The inaugural running of the Diadem WFA Stakes took place on Saturday, 30 Nov 1957, when it was won by Mr J.W. Hill's 3yo filly Tetrina.  The filly, trained by Stanley Gorton and ridden to victory by Freddie Heyman, downed Black Pirate, a son of the mighty Black Cap (IRE), in the process.  She was a tremendous race filly who went on to become a taproot mare.
Black Pirate had to settle for second again when the 1958 Diadem was won by Tetrina's full brother, Royal Affair.  Johnny Cawcutt in the saddle that day, recounted,"We started with tapes in those days and I was left standing after Bertie Sage on Time To Shine had cut us off at the jump. We lost at least 4 lengths, and yet I was 8 lengths clear after only 200 metres. I never let him go and still won by 7 lengths from Black Pirate."  Johnny classified it 'the most staggering sprint performance of my life' and remained adamant that Royal Affair was the fastest horse ever seen in South Africa.  The two horses met again in the 1959 Queen's Plate, won in a staggering performance from Royal Affair, who broke down inside the final furlong, with Black Pirate in 3rd place.
Black Pirate was vindicated in 1959, winning the race by a neck from Astray and Time To Shine, with a half sister to Tetrina and Royal Affair, Teresina, in 4th.  Black Pirate would go on to finish 2nd in both the 1960 Queen's Plate and the Met, beaten less than a length in each.  Black Pirate made it a Diadem double in 1960, not only confirming his own quality, but putting the 7 length beating he'd received from Royal Affair into sharp relief.
The Mighty Inverthorn
Inverthorn ruled the Diadem in 1961, beating the mighty Royal Affair (by this point having recovered from breakdowns in the Queen's Plate as well as in the USA), by 0.75 length and winning the Queen's Plate from the mighty Jerez a month later, in a race hailed by Sir Mordaunt Milner as the greatest of all time.   Inverthorn won it again in 1962, beating subsequent July winner Left Wing and the mighty filly, Majorca.  He finished 3rd in 1964, followed up by a 2nd place finish in the Queen's Plate behind Fair Mountain.  "He was a tremendous racehorse," pronounces Charles.
The 1963 race went to Cheery Chatter, "a good horse" who won it by 1.5 lengths and in 1964 it was won by Vaso.  By now the race had slipped into an early December slot.  In 1965 the race went the way of Arsenal, with such as Renounce, Java Head and Fire Eyes behind him.
Arsenal had another go in 1966, finishing 0.5 length 2nd to Paul de Wet's Peter Beware, who went on to win the 1968 Queen's Plate and finish 2nd in the Met.  In 1967 the race went the way of Fire Eyes.  "This," remembers Charles, "was an interesting horse.  It was one of those strange things.  He won the Cape Derby and then lost his ability to go a mile and a half and ended up a pure sprinter."
Peter Beware racked a second Diadem in 1968, beating the 'iron horse', William Penn,  and then finished 2nd (to William Penn) in the 1969 Queen's Plate and then won the Met.
And then there were two
The Diadem was contested by a mix of pure sprinters as well as top class classic horses having their seasonal pipe-opener – and the results reflect that the Kenilworth 1200m was a worthy test of a true champion, the best test of a sprinter in South Africa.
1969 saw Milnerton implement their own WFA sprint feature, the Cape Flying Championship, traditionally held a month after the Diadem, offering another top class sprint for the high speed types, while the classic horses would take their chances in the Queen's Plate and Met.
The inaugural Cape Flying Championship, run on 4 January 1969, went the way of Benzol.  As the premier sprints on the Cape calendar, the two races were linked ever since.  The 1969 Diadem was won by the fantastic Soteriadis-trained filly, Leta.  Only the second filly to win the race, she did so beating subsequent dual Queen's Plate winner, Chichester.  She went on to win the 1970 Cape Flying Championship (beating Benzol and a host of great older horses) as well as the Cape Fillies Guineas.  "Bred and owned by the Scott Bros, she was a big, black beautiful filly and probably the best sprinting filly I ever saw," says Charles.  "In the Cape Fillies Guineas, she stumbled out of the gates and nearly fell.  She was a heroic filly.  A hero of Cape racing."
1970 produced an interesting result when Garth Puller won the race on the Peter Kannemeyer trained Prairie Prince, by half a length from Bert Abercrombie on Peter Beware.  Right next to them was Court Day who had beaten the 3yo Chichester in the July.  Prairie Prince went on to win the Cape Flying Championship a month later.  "He was a brilliant sprinter," says Charles.
In 1971, the race was named the Southern Cross Stakes. Prosperous won it for Millard with Yves St Martin in the saddle. Captain Bell and Fernando Toro fought them tooth and nail, but were ultimately beaten a head.  Gianfranco Dettori (Frankie's dad) riding Sultan's Pearl was 3rd.  Captain Bell won the Cape Flying Championship on 12 February with Johnny Cawcutt in the saddle, beating the imported Miss Lindeman and Bolero.
The race was called the Southern Cross Stakes again in 1972, when it was won by Lords, ridden by Willie Carson.  Fernando Toro was 2nd on Captain Bell by 1.5 lengths.  "When they brought international jockeys over in those days, they brought the world's best," says Charles.  In February, Lords finished 2nd to the mighty Sentinel in the Cape Flying Championship, beaten 3.75 lengths with Johnny McCreedy on board.  According to Charles, "Sentinel was the greatest sprinter I have ever seen."
In 1973, the race was named the BP International Jockey Stakes and Bolero won it for Baby Killa, with English jockey, Tony Murray in the saddle, beating Met winner Force Ten, Alan Higgins' Harlech and the crack filly Ovarownde, who'd been backed into even money.  That same season Sentinel won his 2nd Cape Flying Championship (named the President's Trophy that year) with Muis Roberts by 5.75 lengths from the likes of Flower Power, Bolero and Lancaster.
In November 1974, Lancaster (a son of Royal Affair) won the race for Fritz Maeder, trained by Alec Soteriadis and ridden by Paddy Kruyer, beating Sword Dancer.  That season, with Muis Roberts on board, Sentinel won another Cape Flying Championship, beating Harry Hotspur with Gr1 stakes winners Archangel, Yataghan, Ocean City and Flower Power well held by the great sprinter.
Quartertone
Dana Siegenberg rode Quartertone to a head victory over New Spain in 1975, while Free Enterprise, with Crunchie Cronje in the irons, won the Cape Flying from Abbey Boy and Pyrmont.  Quartertone claimed another victory in 1976, beating Monastery and Sind, while Free Enterprise and Bertie Hayden hung on for victory in that season's Cape Flying.
1977 was the turn of Stephen Page on High Glow for Atholl Fisher.  High Glow, a tough, front running horse, went 8 lengths clear with MacHeath chasing and hung on by 0.5 length.  Kenny Michel won that season's Cape Flying on Monastery, beating Free Enterprise (Bert Hayden) and The Eliminator (Garth Puller).
In 1978, Garth Puller and Peter Kannemeyer were back with The Eliminator, winning by a neck from Lovely Rhythm and the filly Dandy Sun (ARG).  In February's Cape Flying, Crunchie Cronje won on the Lesley Cawcutt trained Lovely Rhythm from Kenny Michel on Monastery and King's Rhapsody.
Over The Air (57.5kgs) won it in 1979, coming with a late rattle to beat Mike Bass's 3yo filly Sweet Chestnut, carrying Gavin Howes and 49kgs. Finishing behind them were Tucson (1980 Cape Flying winner) and 1980 Met winner, Sunshine Man.
Horatius, ridden by Eric Fordred, dug deep to win in 1980, winning by a short head, short head from Tucson and Young Captain, with Over The Air in fourth.  Horatius was trained by Lenny Taylor on Muizenberg beach and won it as an entire.  "They didn't geld everything in those days," notes Charles.  Sweet Chestnut and Paddy McGivern won the Cape Flying from Horatius.
King Karl
1981 marked the first winner for Karl Neisius, when he rode Mr & Mrs Frank Waring's Lurgan to victory for Chris Snaith.  "Karl was a head waiter like Bert Abercrombie.  He stalked them 3 lengths back the whole way and then pounced at the 200m and won going away from Jack Mitchell's Young Captain," remembers Charles.  That season's Cape Flying was won by War Ribbon (by Royal Affair), beating Spider O'Toole, Rotterdam and Horatius, with Lurgan in 5th.
Chris Snaith was back in 1982 with Breeze Past.  It was a windless day and Kenny Michel took him to the front and held on from the Ralph Rixon-trained Craftsman, leaving a great field behind them.  "Kenny was a great rider and it was a tactical masterstroke to hold off Craftsman."  The December Cape Flying was won by Foreign Ambassador, coming off the back of winning the Cape Guineas.
There was no Diadem in 1983, although the Cape Flying was won by the Mike Bass trained Green Silver with Gavin Howes, beating the odds-on Smackeroo from Joburg.
1984 was another Snaith victory, when Karl Neisius on Front Cover dead-heated with Garth Puller and the Kannemeyer-trained Chili Bite.  The race was held in September, on yielding going.  Front Cover went to the outside and hit the front with Mystery Me.  Chili Bite just got there for the photo.  In January, Tucaman, one of Graham Beck's first good horses, won the Cape Flying.
Kenny Michel was back again on Mrs Zuccola's Gin Rummy in 1985, beating Chili Bite.  In a brilliant race, Karl Neisius won that year's Cape Flying Championship on Lord Randolph, beating Sunera (GB).
In 1986, Eric Fordred won on Izindaba, probably on a par with Politician's other crack sprinter, Senor Amigo.  Charles interjects, "Crown Agent nearly caught her, but Eric coaxed her home to hold off a good field."  Equine flu sadly put paid to the Cape Flying Championship that season.
The result went the way of Snaith, Neisius and the 4yo Lord Randolph for the Jaffees in 1987.  Lord Randolph went on to contest the Cape Flying, but was pegged back by the Eric Sands trained Wexford Boy by 0.75 lengths.
There was another son of a Diadem winner in 1988, with Express Courier (by Over The Air), bred by Maine Chance Farms, trained by Stan Elley and ridden by Allan Levy, who got up to beat Eric Fordred on Esprit du Corps by a neck.  That season, the Cape Flying went the way of Springing Leopard (USA) by Hawaii, for Felix Coetzee and Terrance Millard.
1989 saw a win for the wonderful filly Wainui for Glen Hatt and Guy Rixon, winning by 4.75 lengths from a stellar field including Mark Anthony, Priceless Asset, Springing Leopard, etc.  "What a filly," breathes Charles.  "She took the lead approaching the 500m and pulled away."  The Cape Flying was won by the Woodruff-trained Simonside from Springing Leopard.
In 1990, Simonside took the Diadem title, giving Geoff Woodruff one of his first big wins.  Woodruff collected the Cape sprint double, winning the Cape Flying Championship with Alnwick and Eric Chelin.
Flaming Rock (IRE)
1991 saw the first of Flaming Rock's wins and he cantered down 8-10 favourite.  Tucked in with the second rank, Karl sat, sat, sat and finally moved at the 200m, drawing up to Steaming Jungle who was trying to make all and then drawing away for the win.  In January, John McDonald collected the Cape Flying trophy with the 3yo Senor Amigo (Gerrit Schlechter), winning impressively from Polished Silver and Alnwick.
Flaming Rock collected his second Diadem title in 1992, beating Spanish Galliard and San Carlos with Paul Gadsby on board.  Flaming Rock started at 6-1.  San Carlos went clear and was only caught in the last 100m.  Flaming Rock won by ¾ length from Spanish Galliard.  That season, Senor Amigo again won the Cape Flying for John McDonald, beating Taban, Gang Leader and Marie Galante.
In December 1993, Phantom Saga took the race from Best Of The Best and Tough Love, winning by 1 length at 8-1 with Freddie Macaskill on board.  Best Of The Best franked the result by winning the January Cape Flying.
Flobayou
1994 saw the first of Flobayou's three victories, beating another champion sprinter in Taban by 2.5 lengths.  He won the race again in 1995, finished 4th to Cordocelli in 1996 and then bounced back for a third win in 1997.
In 1998, the John McDonald-trained Okukama beat Dad's Elect by 1.75 lengths, creating a unique piece of historical colour as he was ridden to victory by Genevieve Michel the first lady rider to win the race.
1999, the first year the race was run as the WPOTA Diadem Stakes, was another vintage year with Gerrit Schlechter steering home Eli's Game for Mike Bass, with such as Free My Heart and Cordocelli behind him.
2000 was the turn of the mighty Captain Al, again with Karl Neisius in the saddle, beating another Cape Guineas winner, Ethno Centric with his nephew Mark Neisius on board.
Nhlavini
Nhlavini won back to back renewals in 2001 (with Jeff Lloyd), finishing a head to the good of Sion (Mark Khan) and celebrated again with Jeff Lloyd in 2002, ahead of Eli's Game and National Title.
With no race in 2003, the 2004 renewal went to Honour The Guest with Bernard Fayd'herbe and Nhlavini 2nd.  Nhlavini exacted revenge in 2005, winning a third Diadem title.
In 2006, Golden Ivory won the Diadem by a nose from Pocket Power, before Pocket embarked on his L'Ormarins Queen's Plate domination.
The race went the way of Rebel King in 2007, with Anton Marcus on board, beating the game Blue Tiger.
Run in late December 2008, Blue Tiger (Andrew Fortune) beat stablemate Pocket Power by 1.25 lengths, this time with Bernard Fayd'herbe in the saddle.
Blue Tiger (Karl Neisius) had to settle for second again in 2009, going down half a length to the Glen Kotzen trained Thunder Key and Karis Teetan.
Past Master won the race in 2010, en route to his 2011 J&B Met victory, beating Gaultier and Blue Tiger.
What A Winter
What A Winter posted back to back wins, first with Karl Neisius in 2011 (beating crack filly Ebony Flyer, who flew late with Felix Coetzee) and again, very late in 2012, without WPOTA as the sponsor, with Bernard Fayd'herbe, besting stablemate Castlethorpe and Cap Alright. What A Winter, like Royal Affair and Captain Al, is adding great value at stud.
In 2013, it was the turn of another filly, when Mike de Kock and Kevin Shea brought Mary Slack's Welwitschia (GB) to the Cape and beat Jackson, Cap Alright and Divine Jet.
2014 saw the turn of Dennis Drier trained Captain Of All (Sean Cormack), beating Copper Parade and Fly By Night.
Conditions Change
In a move condemned as a disgrace by Charles Faull, 2015 saw the race subverted to WFA plus penalties, with the victory going the way of the Mike Bass-trained Lanner Falcon (Grant van Niekerk), over Fly By Night, Gulf Storm and King Of Pain.  "This was a very important race.  It's a disgrace that a race with such a great heritage and importance to South African sprinting history has been reduced to a conditions event."
The following year, the race was inched even further forward in the calendar, being run in mid-January 2017 and went the way of Trip To Heaven (Sean Tarry / S'manga Khumalo), who characteristically got left at the gates and came flying to win by 3.75 lengths from the always game, Tevez.
In 2018, the race was won for the first time by Justin Snaith, with his Lammerskraal-bred Bishop's Bounty and the in-form Grant van Niekerk, by two lengths from the evergreen Tevez.
2019 sees the race moved right back to the end of February, to share the billing with the Vasco Prix du Cap and Kenilworth's annual Prawn Festival.
Charles adds in closing, "The Diadem has been won by champions, from champions, providing spectacle, fame and folklore.  Its rich history and lasting legacy on our tracks, stud and history books, cannot be overstated."
‹ Previous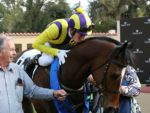 Spies Cleared By NHA