A bumper ten race programme is offered on the Vaal Classic track today with the first race off at 12h20.
Local punters will be keen to get back to the grindstone after the Flamingo Park meeting was abandoned yesterday.

The Bipot commences in the second race at 12h55.
The false rail is set at 3.5m back straight, 8m on the bend and with an 8m spur at the 600m mark.
There is a 64% chance of light rain.
First-timer/Rested Horses
1 12:20 – ITSARUSH.CO.ZA WELCOMES YOU MAIDEN PLATE (F & M)
17 PARTY IN MAINE H van der Westhuizen: No comment given
3 13:30 – TAB PAYS THE FULL DIVIDEND, NO LIMITS MR 65 HANDICAP
1 PSYCHIC S G Tarry: No comment given
9 MANTRACKER S J Gray: No comment given
5 14:40 – BOOK FOR CLASSIC DAY 0116811508 FM 66 HANDICAP (F & M)
1 SANTA VITTORIA (AUS) J J van Vuuren: No comment given
6 BIG MYTH (AUS) S G Tarry: Might need the run
6 15:15 – SAVE THE DATE 4 MAY GIN & ROSES FESTIVAL MR 74 HANDICAP
3 BRAND NEW CADILLAC G M Alexander: May just need the run, place chance
4 KING OF BLUES P A Peter: Coming off a long break and may need the run
Thanks to Phumelela Publishing
‹ Previous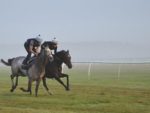 Good News For UK Racing