Racing in the UK will resume on Wednesday.
This is the news after an unsettling week and nervy Monday night while the BHA wrestled with letting racing resume following the equine flu outbreak.

Last Thursday morning many awoke to find racing had been cancelled due to the flu alert and the following Monday was quickly identified by the BHA as D-Day for a decision on whether six days would amount to a sufficient shutdown period.
An industry veterinary committee was key to the cessation of racing, and the same committee gave the BHA confidence to lift the ban late on Monday night.
The BHA statement added: "This decision to return racing in a controlled, risk-managed manner was unanimously supported by the industry veterinary committee."
Brant Dunshea, BHA's chief regulatory officer, said: "After analysis of thousands of samples, and no further positive tests on Monday, we still only have two confirmed sites of infection. We have put robust containment measures in place around both.
"From the testing and analysis conducted the disease appears to be contained at present.
"Clearly, there is some risk associated with returning to racing. This risk has been assessed and, based on the evidence – and ensuring biosecurity measures are in place – the level of risk is viewed as acceptable."
The declarations stage for Wednesday's four meetings will be at 10am on Tuesday. Declarations for Thursday's Flat all-weather meetings will now be at the 24-hour stage.
Several big races are imminent on the jumping calendar, while Tuesday marks four weeks until the Cheltenham Festival.
Excerpt from www.racingpost.com
‹ Previous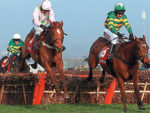 Betting Opens On Cheltenham Festival