Jockey Aldo Domeyer's crowd pleasing salute of pure ecstasy as he approached the winning line to win the Gr1 Majorca Stakes on the exciting 3yo Clouds Unfold on Sun Met Day has cost him a portion of his 'match fee'.
In the latest calendar issued by the National Horseracing Authority of South Africa, it is reported that Domeyer was fined R3000 for a contravention of Rule 62.2.10, in that whilst riding Clouds Unfold  he saluted in a celebratory gesture prior to the finish line.
He was fined R3000.
The winner's cheque for the prestigious fillies and mares contest was a gross R625 000, and with the jock's cut amounting to around 10%, the salute would have probably been considered worthwhile in hindsight  – even after tax – given the memorable pic to show his Grandkids one day.
‹ Previous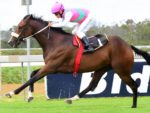 Fairview Mile Falls To Cape Visitor