Florian Junge's sculptures are fast gaining popularity with those who appreciate a unique exclusivity and his works could be viewed at the Sun Met for the first time on Saturday.
Junge's mission is to create an emotional impact on people with his world-class welded steel sculpture work. He does so with amazing ease by transforming reclaimed scrap steel into sculptural  masterpieces that radiate life and action.

This German born, self -taught sculptural genius takes pride in the fact that his sculptures are all unique, once-off pieces that have been individually fashioned with expertly selected components.
These sculptures can be seen in some of the our top fine-art galleries, having found homes locally and internationally in the USA , Germany , Russia , United Kingdom among others.
Although not all his artworks are of an equine nature, his love for horses and his ability to duplicate their actions and gestures, caught the attention of the Sun Met organizers, resulting in a stunning exhibit at the races this year.
Junge's personality has landed him a number of commissioned works which he particularly enjoys because of the co-creative nature thereof.
"Good art is a higher form of communication that must touch something deep within," he told the Sporting Post between races on Saturday.
Junge was born in Hamburg, Germany and moved to Mozambique with his family as a young boy. They moved to South Africa at the start of his schooling career and he matriculated at Wartburg High. Florian has lived a colourful and mostly well travelled existence ever since.
He acquired his inspiration from his father whom he describes as being a true and natural artist at heart. Like father like son, Florian sees art in almost anything. He transforms everyday articles into works of fine art by using predominantly reclaimed items: always expressing an array of emotions which he manages to successfully communicate to the onlooker.
More of his works can be viewed and are available for purchase on www.florianjunge.com
‹ Previous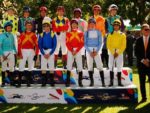 Met Day Success