Lightning played havoc at the Greyville meeting on Sunday. But with Gold Circle technical and track staff working frantically behind the scenes, the meeting was eventually concluded, albeit nearly two hours after scheduled close.
The storm struck shortly after the first race.
Racing was halted because of lightning and was further delayed as the course was hit by torrential rain.
Compounding problems, the outside broadcast van was struck by lightning.

This resulted in a blown sound desk which affected the communications unit.
The outside sound broadcast to Tellytrack was also affected including the feed to the big, on-course TV screens, grandstand speakers, internal television monitors and a number of television cameras. Other technical installations also suffered extensive damage.
Because of the loss of the communications unit, Gold Circle was not able to inform on-course patrons of the issues and apologises for any inconvenience.
Gold Circle Racing Executive, Raf Sheik, thanked staff for pulling together to ensure that the meeting was concluded.
"It was all hands on deck for both our technical staff, who managed to patch things up, and track staff who had to cope with a flooded track. It was a team effort and management is proud of their efforts which saved the race meeting."
Press release published by Gold Circle on 4 February 2019
‹ Previous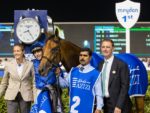 Godolphin Lead Way