An adjustment in the calendar for the Highveld Autumn Feature Season and a tweak of the conditions for a rich race on Champions Day provides owners of top 3yo's increased earning and bragging rights opportunities in 2019.
Saturday hails the start of the Highveld Autumn Feature Season at Turffontein with the running of the R1 million Gr2 Gauteng Guineas and the R750 000 Wilgerbosdrift Gr2 Gauteng Fillies Guineas.
These two classics are the respective local first legs of the richly endowed R7-million SA Triple Crown and the R3.75-million / R4-million Wilgerbosdrift SA Triple Tiara – the richest series of races for their sexes and ages in Africa. A bonus of R2 million will be paid to the owner of the horse that wins all three legs of the Triple Crown – and R1 million to the filly that can achieve what Igugu and Cherry On The Top did.
Interestingly, the alternate first legs were run in the Cape in December – with the R1-million Cape Guineas won by Mike de Kock's Soqrat and the girl's equivalent won by the exciting Brett Crawford charge Front And Centre. There are no indications at this stage whether either will try and make history by attempting the win the second and third legs in a separate province.
Guineas day on Saturday has been brought forward a month in comparison with past years and we asked Phumelela's Clyde Basel what the rationale was behind the move.
"In the past, the R4 million Gr1 Premiers Champions Challenge was run on the same day as the SA Derby and thus the likely 3yo contenders who suited both these races were forced to choose one or the other. We gave it some serious thought after proposals and input from owners and trainers and we looked at a shuffle in the programme which would effectively open the door for owners to have a chance to earn more and not be forced to miss one or the other."
Basel went on to say that a decision was made to commence the season in early February as opposed to March, and to move the Premiers Champions Challenge to a separate day.
"That also had the effect that we now have four peak days in our season – Guineas Day on Saturday, Classic Day on 2 March, Derby Day at end March, and then culminating in the big Champions Day on 4 May, which dovetails with the launch of the SA Champions Season in KZN."
He also pointed out that the Champions Challenge was run at weight-for-age plus penalties previously and this year it is a pure weight-for-age race. "So we are now in a position to optimise the quality of the field and hopefully attract the best 3yo's around – and, who knows, maybe our next SA Triple Crown champion too," he said.
Mike de Kock can probably lay claim to having trained the greatest Triple Crown winner in Horse Chestnut who won the inaugural series twenty years ago. The master trainer also enjoyed the distinction of saddling the first filly to win the Triple Tiara. That was the top-class Igugu won took the honours in 2011.
De Kock has kept the alternate first leg winner Soqrat in reserve but saddles seven serious contenders over the two races on Saturday.
His attack is headed by the undefeated Silvano half-brother to last Saturday's sensational Met winner Rainbow Bridge in the athletic Hawwaam, backed up by Barahin, Alyaasaat and Arlingtons Revenge in the boys' clash.
"I'm very happy with Hawwaam. I've freshened him up since his win in the Tony Ruffel and he has improved. If he is going to win the Triple Crown I would say the Guineas will be his toughest task because 1600m is almost his minimum trip.. He has never had a draw though!" he said on www.mikedekockracing.com.
Barahin has not run since winning the Golden Horseshoe at Greyville on Durban July day in which he touched off Soqrat by a short head. "I think he is very good. He's the only horse in that age group to have beaten Soqrat. We gave him a long rest because he was a bit jarred up after the Natal season. His work since coming back has been excellent and we've done as much as we can, but he still might just need the run. But he does have a bit of class."
Mike said he took the decision to geld Alyaasaat after his flat run in the Graham Beck Stakes in which he finished fourth behind National Park. "He is very capable and he has come on with gelding but I'm not convinced he is in the class of the other two. Arlingtons Revenge is also probably not in this class. If he ran fifth it would be a massive run. He is an improving sort and I would like him to run well," he added.
The multiple champion also saddles three runners in the Fillies Guineas, and while they all have chances, this race is a lot trickier.
"Nafaayes is a well above-average filly. I particularly like the form of her last race, a Gr2, where she beat older fillies to win a good race. She hasn't raced since but she's a lightly framed filly and she doesn't take much work."
"Our Gr3 Three Troikas winner Storm Destiny impressed me with her last win. I didn't expect her to win over 1400m. I'm not worried about her wide draw because she's got to sit off the pace in any case. She likes to run at horses."
He says Dagmar has had her issues. "But she's not a bad filly on her day. She is certainly better than she's shown of late," he added.
Read more – click on the image below:

‹ Previous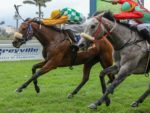 Shongweni Catalogue Online