With the news that multiple Hong Kong champion jockey Doug Whyte will be trying his hand at training, Michelle Wing of Racing News canvassed some ex-jockeys who have made the move to training.
She chats to Garth Puller, Gavin van Zyl, Dennis Bosch and Michael Roberts.
It seems life as a jockey is a lot simpler!
Watch the short clip here:
‹ Previous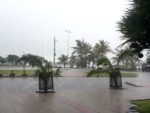 Greyville Sunday Meeting Saved