An informal but very constructive and lively meeting hosted by new Kenilworth Racing Co-Chairman Robert Bloomberg and WPRRA Chairman Jono Snaith with a small group of longstanding Cape punters was held in the Kenilworth Racing Private Suite after Saturday's meeting.
Kenilworth Racing's Chief Operating Officer Faeeza Heuwel also attended, as did a representative of the Sporting Post.
The meeting arose out of a commitment issued in December from both the KR Board and the WPRRA board to open lines of communication with the media and the public.
A letter written by Michael Jacobs and published in the Argus and the Sporting Post after the Sun Met last month caught the attention of Messrs Bloomberg and Snaith and also initiated a groundswell of support amongst our readers.
'The Met has lost quite a lot of its fun and energy since it changed to the SunMet, but truth be told it has been on a downward spiral for a good few years. The event has become over commercialised and exclusive, and the huge crowds of yesteryear are staying away,' wrote Mr Jacobs, a man who started out life as a barman at Kenilworth and Milnerton,  and who today works for one of South Africa's largest retailers. He attends every racemeeting, work permitting.
He said that the owner and punter are the two most important stakeholders in racing. "Without owners there is no horse-racing, without punters there is no betting and punting which funds the industry. Trainers, jockeys, grooms, racing operator staff (and management) are merely workers in the industry, dependant on us and owners to provide their livelihoods!"

As regards the major days, Jacobs said that in his opinion the SunMet and Queen's Plate have become elitist, exclusionary and exclusive and said it appears as if there is an attempt to sideline the ordinary punter/racegoer. This thought has been echoed by many.
Seasoned racegoer and former politician Danny de La Cruz also attended Saturday's meeting with his wife. He was very vocal about the cost of the dining facilities on Queen's Plate day and the fact that he had to go through numerous checks at a venue he has been attending for the past sixty years.
"Nobody from Kenilworth Racing was there to welcome me. The food was sub standard. The way I feel now, I won't come again. And I should point out that the Betting World Tote on the racetrack no longer has a liquor licence. We punters love to have a drink you know. But now they are offering me toffee apples and bananas,"he laughed.
Neil van Vuuren was another lifetime punter who attended racing as often as he could. He pointed out the sub standard facilities from dirty chairs to poor service in the bar and at the tote counters, outdated tote machines and litter lying around from previous meetings.
He, however, liked the crowd boosting idea mooted by Jono Snaith that tickets could , for example,  be donated to the Universities, which could be sold at a discount to students and the proceeds used for fundraising by the various institutions.
"People are attracted to 'noise' and crowds. You will find empty venues have no allure for the prospective visitor," said the former restauranteur.
Jono Snaith undertook to take the basic grounds cleanliness issues up with Track Manager Dean Diedericks.
Both Messrs Bloomberg and Snaith said that they noted the concerns and agreed with many of the points raised.
They felt that Kenilworth Racing could, however, not be held responsible for the unpopular pricing, food and service issues on Met day as this was out of their hands on the day, having been outsourced through contractual agreements.

"I will most certainly bring these issues to the attention of Phumelela Management and from my side be assured that I will endeavour to ensure that insofar as is possible – bearing in mind that as pointed out both Jono and I are non-executive directors who play no part in the day-to-day running of the Company – that these issues, much of which we are in agreement with, will be addressed," assured Bloomberg.
The new Co-Chairman undertook to revert to the group in due course.
"But please bear in mind that you have raised numerous issues and that the response won't be immediate."
So definitely a small step in the right direction!
‹ Previous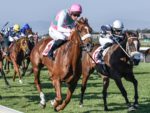 Snaith 4yo Could Be July Value