The forfeit of an objection  deposit and the use of leather reins, outlawed some 15 years ago, are featured in the latest Stipes Report published after Friday's Fairview meeting.
Deposits are lodged in the course of objections as a means of showing commitment by the party objecting. Jockey Collen Storey is R4887 out of pocket after the seventh race at Fairview on Friday.
Following the running of this race, Storey, the rider of The Carpenter lodged an objection against the winner Highland Hero (W Agrella) on the grounds of intimidation in the closing stages. An objection Board was established and found that whilst the winner Highland Hero shifted ground towards the inside, he was sufficiently clear of The Carpenter in the concluding stages.
After due consideration, the Board over-ruled the objection, allowed the judges results to stand and deemed this objection to be frivolous and the objection fee of R4887 was forfeited.
In an addendum to yesterday's report, an investigation was opened into stable employee Z Xamle acting on behalf of Trainer S J Snaith attempting to present Star Chestnut to race in a set of leather reins.
On enquiry, the leather reins were discovered prior to the start of race 7 in the saddling enclosure.
The Stipendiary Board advised Mr Snaith that leather reins were prohibited in terms of Rule 58.7.2 and issued an admission of guilt for a contravention of Rule 58.7.2 in that Trainer S J Snaith presented Star Chestnut  to race equipped with leather reins which are prohibited. A fine of R1000 was imposed.
Star Chestnut subsequently won the Fairview Mile.
Leather reins were deemed dangerous and banned 15 years ago.
‹ Previous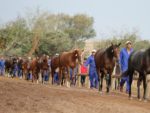 Koster And Kieswetter On TBA Council