Trainers are expressing concern about security following the horrific attack on Eric Sands at Cape Town's Milnerton Training Centre last week.
The Sun Met-winning trainer, who is 62, was in the yard of his stables around 6.00pm last Wednesday when an intruder burst in wielding an axe and charged towards Sands. The trainer, with considerable presence of mind and no little courage, ran at the man and hit him with the point of his shoulder.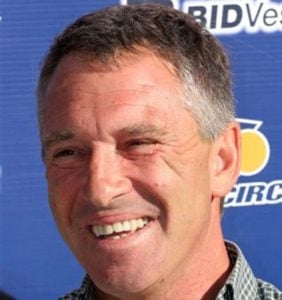 Michael Clower writes that the assailant lost his balance and fell. But Sands' advantage was short-lived. Three more men appeared and they were armed with knives. In no time it was Sands who was on the ground and in mortal danger. One of the trio was intent on smashing his face in.
"He had a pellet gun. I was on my back and I couldn't really move. I saw him lift the gun and prepare to bring it down, butt first, into my face," Sands related. "In the last fraction of a second I managed to move my head sideways and the butt only grazed my cheek."
It was a bit more than a graze – the scar is still clearly visible. The men tied up Sands in his office before making off with R7 500 in cash as well as some foreign currency left over from overseas trips.
There was a security man on duty but he was on the road frontage side of the stables guarding the cars. Apparently he is under orders to stay put until the last of the cars has left and, in any case, he heard nothing.  However somebody obviously knew that there was cash on the premises and tipped off the raiders. Sands has let it be known that he is prepared to pay a reward for information leading to the arrest of the men and he has so far received some feedback.
Greg Ennion, whose yard adjoins Sands' stables, said: "It is believed that the quality of the security has deteriorated markedly over the last two years. They must improve it. We are paying for security as it is included in our rent."
Candice Bass-Robinson's yard is further up the road and she said: "Phumelela has to work on this. It happened to Harold Crawford a few years ago (November 2013) and we can't have this sort of thing – otherwise it's only a matter of time before it happens to us all."
She pointed to the obvious dangers of a woman sitting in the office of a yard on her own but she was thinking, not of herself, but of assistant Mel Arnold who is often working there on a Saturday afternoon when the rest of the complex is either off duty or at the races.
The most famous Milnerton attack came over 20 years ago when Joey Ramsden, then assistant to Vaughan Marshall, was attacked by two men when he was paying the wages. One had a gun and the other a knife which he plunged into Ramsden's padded jacket.
Seemingly, and dangerously, not a lot has changed.
 Ed – we have requested a comment from Phumelela