The National Horseracing Authority confirms that at an Inquiry held in Port Elizabeth on 7 February 2019, Trainer Mr J V A Strydom was charged with a contravention of Rule 73.2.4.
This arose in that he was the Trainer responsible for the horse FRIKKIE, when it ran second in the 6th race at Fairview Racecourse on 22 June 2018, after which a urine specimen taken from this horse, disclosed upon analysis, the presence of Minoxidil, which is a prohibited substance in terms of the Rules of the National Horseracing Authority of Southern Africa.
Mr Strydom pleaded guilty to the charge.
The Inquiry Board found Mr Strydom guilty and imposed a penalty of R34 000 of which R17 000 is wholly suspended for a period of 12 months provided that he is not found guilty of a contravention of the Rules relating to prohibited substances during that period.
Furthermore, in terms of rule 72.3.2, FRIKKIE is disqualified from the 6th race run at Fairview Racecourse on 22 June 2018 and the provisions of Rule 67.7.8 shall apply.
‹ Previous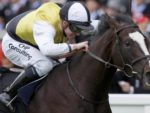 Equine Flu Shock For UK Racing